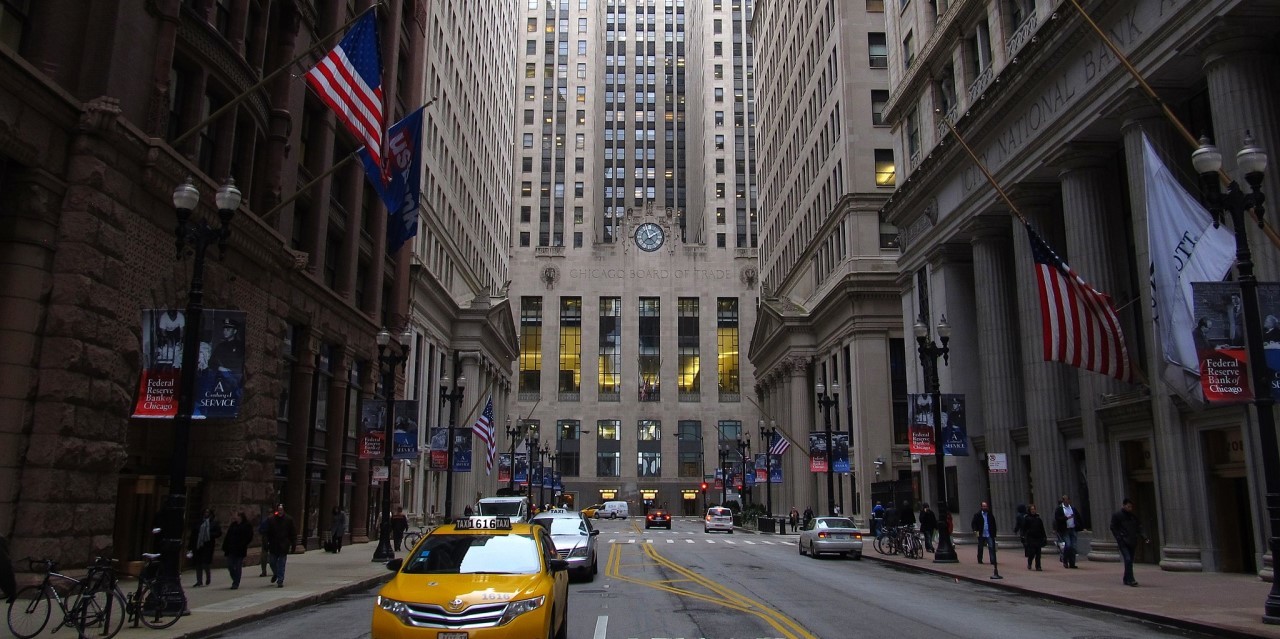 Chicago Board of Trade Building | Ken Lund from Reno, Nevada, USA [CC BY-SA 2.0 (https://creativecommons.org/licenses/by-sa/2.0)]
A Chicago federal judge has knocked down a putative class action against the Chicago Board Options Exchange, which alleged the exchange allowed anonymous traders to manipulate the market, saying plaintiffs failed to show the exchange knew of, much less encouraged any manipulation.
Judge Manish Shah issued the ruling May 31 in U.S. District Court for the Northern District of Illinois, which is based in Chicago. The decision favored the Chicago Board Options Exchange (CBOE) in a lawsuit brought by 31 plaintiffs, who filed multiple suits in federal courts in Chicago and New York, which were consolidated last year in Chicago. Plaintiffs sought class action status for their suit.
In dismissing the case, Shah gave plaintiffs until June 19 to amend their suit for another try.
The suit alleged CBOE breached the U.S. Securities Exchange Act and the Commodities Exchange Act, and neglected its fiduciary duty to protect plaintiffs from fraud. The suit also alleged unknown traders violated the Sherman Act. The CBOE, at 400 S. La Salle St., is the country's largest options exchange
The CBOE offers Volatility Index (VIX) products, which let investors trade on their predictions of how the S&P 500 stock index will fluctuate over 30 days. Plaintiffs alleged CBOE designed its profitable VIX program to allow manipulation. The index, which is calculated every 15 seconds during the trading day, is considered the stock market's "fear gauge," according to court papers.
Plaintiffs said they bought and sold VIX offerings, but lost money due to alleged chicanery by certain traders taking advantage of vulnerabilities allegedly built into VIX. As an example, plaintiffs claimed these traders made a small number of out-of-the-money option trades, which disproportionately affected values of VIX options and futures.
The CBOE filed a motion to dismiss the case on several grounds. Shah agreed with most.
"Though the VIX franchise was especially lucrative to CBOE, CBOE did not enjoy any additional benefit from the manipulation itself. It merely earned the same trading fees it would have for any legitimate transaction. Though the VIX franchise was an important source of profit for Cboe, the manipulation itself was not," Shah said.
The judge said there are no indications CBOE knew VIX products were susceptible to finagling or CBOE "purposefully designed the market to facilitate manipulation."
Shah also found plaintiffs' claims of loss to be shaky, noting plaintiffs didn't assert the market was "suppressed or inflated," so allegations they were harmed are insufficient. In addition, plaintiffs failed to identify transactions they made that resulted in loss from manipulation by others. As a consequence, plaintiffs "have not plausibly alleged loss causation."
In dismissing the case, Shah allowed plaintiffs to amend their claims concerning violations of the Securities Exchange Act and Commodities Exchange Act, but dismissed for good their negligence claim based on state law.
Shah found if the negligence count proceeded, CBOE would be subjected to "varying standards," because the Securities Exchange Commission, using federal law, approved "much of the design process that forms the basis for plaintiffs' negligence claim." Federal law, in the form of the Commodities Exchange Act, preempts state law in this matter, Shah noted, because Congress intended for uniform standards to apply to markets.
Plaintiffs are represented by dozens of firms, including Kaplan, Fox & Kilsheimer, of Wheeling; Freed, Kanner, London & Millen, of Bannockburn; and such Chicago firms as Korein Tillery LLC; Quinn, Emanuel, Urguhart & Sullivan; Cohen, Milstein, Sellers & Toll; Cafferty, Clobes, Meriwether & Sprengel; and Robbins, Geller, Rudman & Dowd.
The Chicago Board Options Exchange is defended by the Chicago firm of Jenner & Block.