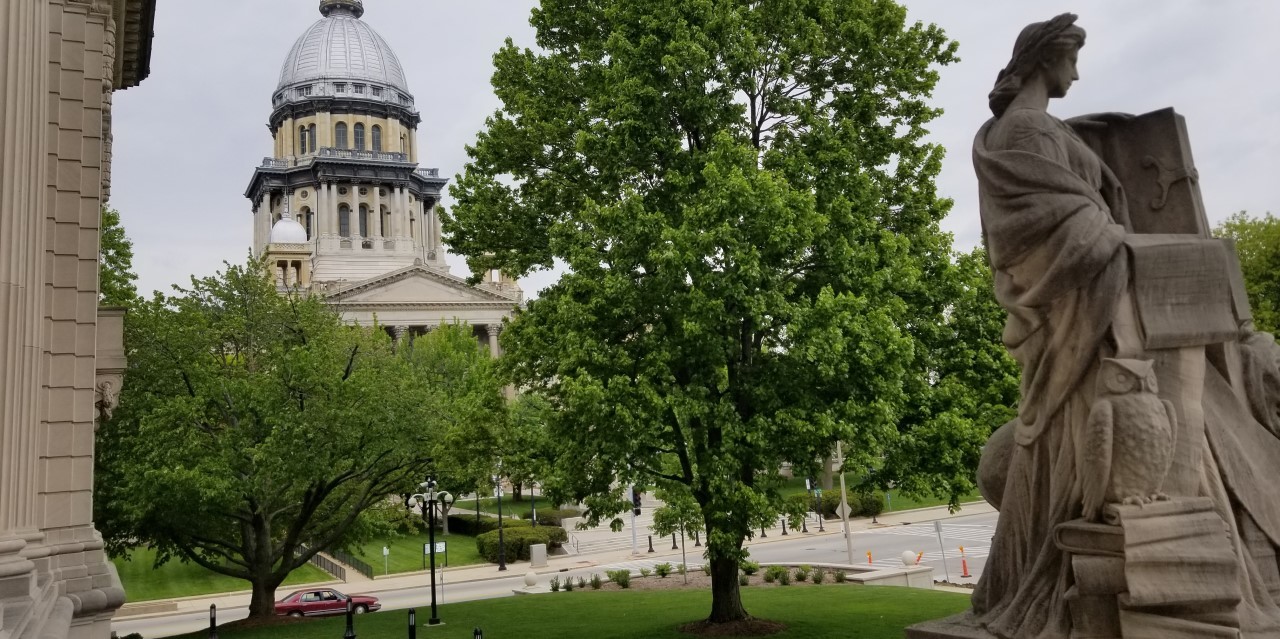 Illinois State Capitol, as seen from the steps of the Illinois Supreme Court | Jonathan Bilyk
An Illinois attorney disciplinary panel has asked the Illinois Supreme Court to take away the law license of a Chicago attorney, who the hearing panel said had filed multiple "unfounded" malpractice lawsuits and accused other attorneys of a host of misconduct, including child abuse and "virtual kidnapping," in an attempt to gain control of a wrongful death lawsuit against Greyhound, following the death of a Romanian woman who was run over by a bus in front of her young daughter.
On June 10, a three-member hearing board of the Illinois Attorney Registration and Disciplinary Commission recommended the disbarment of attorney David Alan Novoselsky.
The panel agreed Novoselsky used "a sustained campaign of unfounded litigation and manipulation" to, in part, drive up the amount of fees he could claim from the wrongful death case.
But in their opinion, the hearing board said they believed Novoselsky had further turned the legal contest into a zero-sum personal game, pitting him against the other attorneys for control of the case.
"… We conclude his (Novoselsky's) motivation was also rooted in his own over-zealous desire to beat down and out-trick his opponents by any means and at any cost, whether that cost was to his own clients, or, ultimately, to himself," the hearing board wrote.
"His determination to control the proceedings and his refusal to accept defeat was displayed repeatedly by his filing and re-filing of meritless cases, his endless motions for substitution of judges, his specious requests for reconsideration and appeals, and other behavior which a reasonable attorney would recognize as meritless and contumacious."
The hearing board's recommendation settled largely on the alleged conduct of Novoselsky as part of a tangled web of legal actions surrounding the wrongful death action, purportedly on behalf of the family of Claudia Zvunca.
Zvunca had died in January 2002, when she was crushed by a Greyhound bus while she ran, with her daughter, Cristina, who was then seven years old, to attempt to reboard their bus, which began driving away without them at a station in Colorado. The mother and daughter were en route to Chicago at the time.
In 2003, the legal actions were set in motion in a wrongful death action brought by Claudia's husband and Cristina's stepfather, Tiberu Klein. A wrongful death action on behalf of Cristina was filed in Cook County Circuit Court in January 2004. Attorney Jeanine Stevens, of the law firm of Clancy & Stevens, was later hired by Klein to represent the family.
In May 2005, a Cook County judge appointed John Cushing to serve as independent administrator of Claudia's estate, and another judge appointed Marina Ammendola to serve as Cristina's guardian ad litem in the wrongful death case. Ammendola is now a Cook County judge.
As guardian ad litem, Ammendola was empowered to hire and fire legal counsel for Cristina, with the court's approval. Ammendola then retained Stevens to represent Cristina, while Cushing hired her to represent Claudia's estate in the wrongful death action.
According to the hearing board report, Cristina eventually came to live for a time with Stevens, because she "was desperate to attend school in the United States" and her Romanian grandparents could not legally live in the U.S. for more than six months at a time. According to the report, the grandparents signed an agreement allowing Cristina to travel to Chicago to live with Stevens.
However, as the case wore on, the report indicated Cristina's family and Klein grew unhappy with the progress and their representation by Stevens, Cushing and Ammendola.
In February 2008, Novoselsky was hired by Klein and the grandparents. According to testimony from Ammendola cited in the hearing board report, Novoselsky from the start "was hostile, engaged in name-calling, and advised the judge that she and Stevens were abusive to children and trying to take Cristina's money."
The report said Novoselsky would file motions repeatedly asking the court to allow him to intervene on behalf of Cristina, Klein and the grandparents, and seeking to remove judges from the case.
Novoselsky allegedly asserted Stevens had mistreated or even outright abused Cristina while she lived with her, and had tricked Cristina's grandparents into signing the custody agreement, calling it a "virtual kidnapping."
Ammendola reportedly testified Novoselsky "accelerated conflicts between the adults by constantly making misstatements and accusations, and attempted to obstruct her role in helping to move the wrongful death case to trial."
Stevens reportedly testified "the allegations against her negatively impacted the value of the wrongful death case because (Novoselsky) was claiming Cristina was emotionally damaged by her rather than by seeing her mother crushed by a bus."
Eventually, Novoselsky filed a series of malpractice complaints against Stevens and Ammendola.
According to the hearing board report, Novoselsky then used those lawsuits to argue they suffered conflicts of interest and should be removed from the Zvunca case.
Judges found little merit in the malpractice cases, and dismissed them. Yet, Novoselsky then filed new malpractice cases in other courts.
Novoselsky "attempted, in vain, to directly intervene in the wrongful death case and to remove the presiding judge as well as Stevens, Ammendola and Cushing," the hearing board report said. "When that strategy failed, he attempted to set up a conflict of interest for Stevens, Ammendola and Cushing by forcing them into an adversarial position to Cristina in federal court while they were ethically tasked to safeguard her beneficial interest in state court.
"In order to create that scenario, Respondent (Novoselsky) manufactured claims against them which had no basis in fact.
"… We believe his sustained desire to seize control, whether appropriate or not, contributed to his unrelenting pursuit of frivolous claims," the hearing board wrote.
Novoselsky briefly prevailed, winning control of the case and quickly settling with Greyhound for $2 million in June 2010. He requested $783,000 in fees, but was awarded only $149,000.
In May 2013, however, a state appeals court tossed that settlement, and dismissed the wrongful death case, while reinstating Stevens to the case and removing Novoselsky.
Claudia's estate and Cristina settled three years later for $5 million.
Stevens and Ammendola won $100,000 in sanctions against Novoselsky, as well, as Cook County Judge Lorna Propes found Novoselsky had "knowingly filed alleged causes of actions that did not exist," the report said.
The hearing board said Novoselsky's apparent lack of remorse and his unwillingness to be deterred even by steep sanctions contributed to their recommendation to disbar him.
"… While we recognize the Zvunca case was complicated long before Respondent entered it, the tangled web was prompted by Respondent, for Respondent," the hearing board said. "As a result, several courts were burdened, progress in numerous cases was delayed, unnecessary fees were incurred, professional anxiety was induced, and professional and personal time was stolen."
The matter will be advanced to the Illinois Supreme Court, which holds the power to disbar attorneys in Illinois.