University of Chicago | Ndshankar [CC BY-SA 4.0 (https://creativecommons.org/licenses/by-sa/4.0)], from Wikimedia Commons
CHICAGO — A state appeals panel has upheld a jury verdict in favor of a former University of Chicago Police officer who sued the school after being disciplined in the wake of a UCPD detective infiltrating an on-campus student protest.
During a protest Feb. 23, 2013, a UCPD detective under Owens' supervision was photographed dressed and acting as a student protestor. When the student newspaper published the images, widespread criticism of the infiltration led to Owens' termination May 20, 2013. He filed his lawsuit May 19, 2015, and the six-day trial started in January 2018.
After UC fired Owens, he sued the school and several colleagues — including former UCPD Chief Marlon Lynch, assistant chief Gloria Graham and deputy chief Kevin Booker — alleging intentional infliction of emotional distress and evidence spoiling. A Cook County jury agreed with the emotional distress claim, awarding him $150,000 in damages, and Judge Joan Powell granted a motion for directed verdict on the spoliation of evidence while denying the university defendants' motion for a directed verdict and judgment notwithstanding the verdict on Owens' emotional distress claim.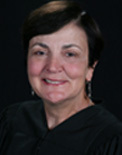 Illinois First District Appellate Justice Mary Mikva | Illinoiscourts.gov
A three-justice panel of the Illinois First District Appellate Court ruled on the defendants' appeal in an order issued June 17. Justice Mary Mikva wrote the decision and justices Carl Anthony Walker and John Griffin concurred. The order was issued under Supreme Court Rule 23, which restricts its use as precedent, except under very limited circumstances permitted by the Supreme Court rule.
According to Mikva, the appellants chiefly argued the conduct Owens alleged didn't qualify as "extreme and outrageous," further stressing he was an at-will employee subject to termination without notice. That argument, the panel said, compared the Owens matter to several cases where courts found an intentional infliction of emotional distress claim insufficient, but it disregarded two such cases that fell under Rule 23 limitations. In many of the others, the claim was dismissed on pleadings, which Mikva explained was different from a situation where "the jury had trial testimony and documents that described what had happened to Mr. Owens in great detail."
The panel further explained how other cited cases fell short of providing an adequate comparison, noting Owens was not alleging emotional distress simply because of an unfair firing.
"The jury in this case clearly accepted his version of events — that he was against the plan that resulted in [the detective] blending in with the protestors, but was terminated because of that plan," Mikva wrote. "That alone was unfair, but there was also evidence from which the jury could have found that Mr. Owens was deliberately made the scapegoat by Mr. Booker who filed the complaint against him but was, himself, the true wrongdoer: the university made a public statement on its website for anyone to see saying that it had terminated the commanding officer, which the public already knew was Mr. Owens, and that it considered his actions 'unjustified' and the jury was entitled to draw an adverse inference from the fact that defendants did not produce the protest video."
The defendants also argued no one acted with intent to harm Owens, but Owens said he only needed to allege they acted with reckless disregard. The jury said there was sufficient evidence for a jury to come to that decision, including allegations the university made Owens a scapegoat and the possibility that Booker destroyed the tape of the protest. It likewise said Owens adequately provided evidence of severe emotional distress such that the jury's finding was reasonable.