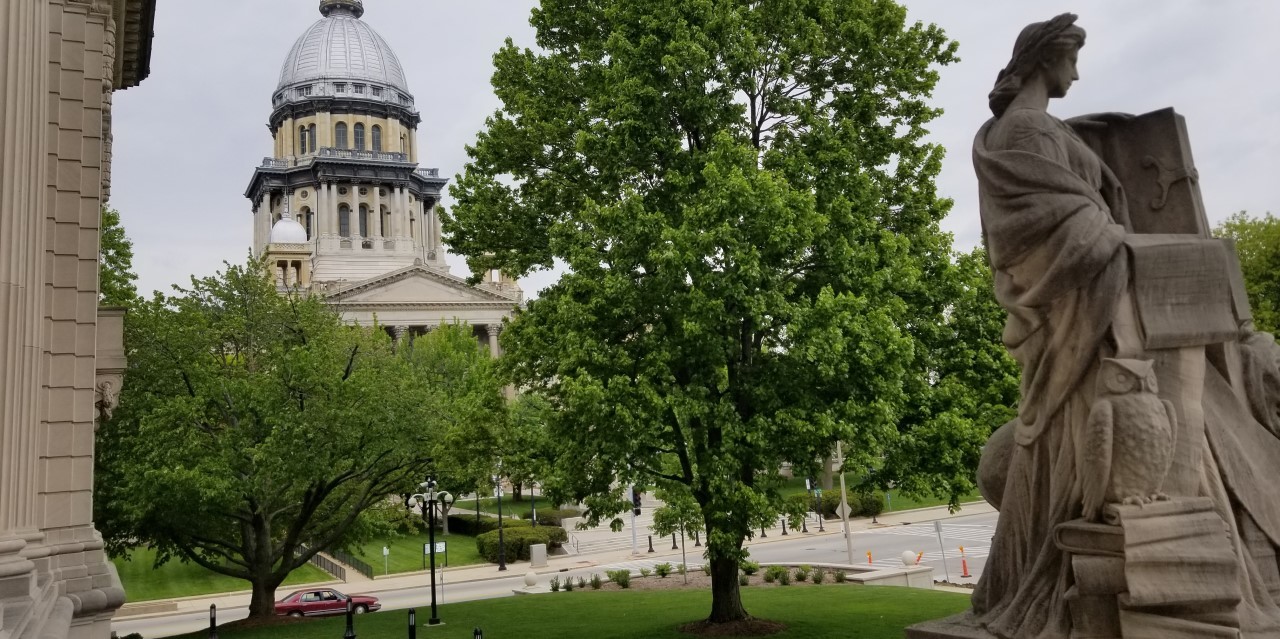 Illinois Capitol, seen from steps of Illinois Supreme Court, Springfield | Jonathan Bilyk
A Cook County Circuit Judge has ruled the Illinois state constitution doesn't allow state lawmakers' pay to ever be withheld or furloughed.
Michael Noland, an Elgin Democrat, served as a state senator representing the 22nd District from 2007 through January 2017. In a complaint filed in June 2017 in Cook County Circuit Court, Noland said he was deprived of income through both mid-term furlough days and legislation that eliminated cost-of-living increases from 2009 through 2016. Noland filed the suit despite voting in support of those bills.
Noland argued the state constitution expressly prohibits changes to legislators' salaries during their terms of office, and said the bills the General Assembly enacted to impose unpaid time off and halt inflation increases violate that clause. He asked the court to force Illinois Comptroller Susana Mendoza — who was not in office during the time in question — to pay Noland and all other lawmakers the full salaries to which they were entitled for the years they were in office.

Former State Sen. Michael Noland, D-Elgin
After Judge Franklin Valderrama granted Mendoza's motion to dismiss Noland's complaint for lack of standing, since he was no longer in the General Assembly when he sued, former state Senate Majority Leader James Clayborne Jr., D-East St. Louis, joined as a plaintiff in May 2018. Clayborne did not seek re-election in 2018, prompting Mendoza to argue he also lacks standing.
In an opinion issued July 2, Valderrama agreed Clayborne lacks standing in his official capacity, since the legislation remained active after he left the legislature, and granted Mendoza summary judgment on all such counts. However, Valderrama didn't say Clayborne was barred from suing in his capacity as an individual.
There is no dispute to whether lawmakers' salaries were changed during their terms of office, Valderrama wrote, but Mendoza "insists that the term 'changes' is ambiguous and that Article IV, Section 11 only prohibits an increase, not a decrease in salaries." Valderrama agreed, saying the lawmakers who wrote that part of the constitution could've explicitly allowed mid-term decrease while barring raises, but opted instead to ban any change whatsoever.
Valderrama said a Cook County Circuit Court already considered a similar question in 2019 when General Assembly members sued Gov. Pat Quinn after he used a line-item veto on an appropriations bill trying to eliminate legislative salaries. Quinn also argued, unsuccessfully, that "changes" referred only to increases. Mendoza said that precedent doesn't apply because Quinn was trying to affect a different branch of government, as opposed to lawmakers voting to reduce their own pay.
The constitutional "prohibition is not based on which branch of government seeks to change the salary," Valderrama wrote, "but rather prohibits any change to a legislator's salary."
When the Boone County State's Attorney sued the state in 2006 over a lost cost-of-living adjustment, the Illinois Supreme Court ultimately found that while the state constitution did prohibit changes to lawmakers' salaries, it had no such provision for state's attorneys. In 2004, when Illinois judges filed a class action complaint over Gov. Rod Blagojevich's use of a line-item veto to block judicial pay raises, the court held the relevant legislation and veto were invalid because they "violated the constitutional provision prohibiting the diminishment of judicial salaries because the cost-of-living increases had already vested."
Valderrama granted Noland and Clayborne's request for summary judgment to strike down the contested laws as facially unconstitutional.
Mendoza also opposed the lawmakers' request for a court order that she issue the payments, arguing payment of lawmakers is a discretionary act. Valderrama said she failed to establish that position.
Valderrama set a status hearing for Aug. 7.