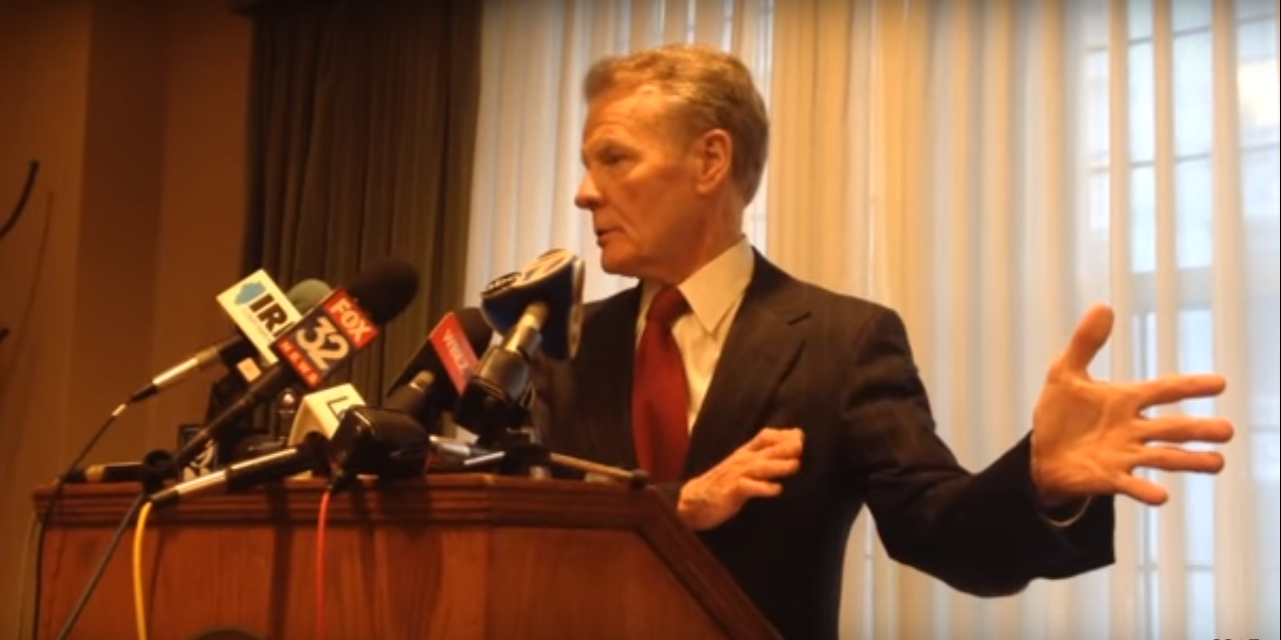 Illinois House Speaker Michael J. Madigan | Youtube screenshot
CHICAGO -- An unsuccessful election opponent of Illinois House Speaker Michael Madigan, who is suing the speaker and his "minions" for allegedly running "sham" candidates to draw votes from him, is arguing that Madigan's motion to toss the suit should be rejected because Madigan forces "debased" the voting process.
Jason Gonzales originally filed suit July 19 in Chicago federal court, alleging Madigan and his supporters engaged in underhanded methods to ensure a lopsided win for the speaker in the 2016 Democratic primary. The alleged unlawful acts included slating two Hispanic candidates to split the Hispanic vote Gonzales has argued he could have received in a district that is 70 percent Hispanic. The candidates were Joe Barbosa and Grasiela Rodriguez, who are also being sued by Gonzales.
Other defendants named in the lawsuit include the 13th Chicago Ward Democratic Organization, which is chaired by Madigan; former Madigan staffer Shaw Decremer; Madigan's campaign committee; and state Rep. Silvana Tabares (D-Chicago).

Anthony Peraica | Anthony J. Peraica & Associates
Gonzales alleges his constitutional rights were breached and defendants violated state laws regarding defamation, criminal history disclosure and conspiracy to prevent voting.
Defendants have argued Gonzales was a Republican "mole" and Democratic efforts against him were protected by the First Amendment. The Madigan forces contend Gonzales' suit should be trashed, because it seeks to infringe on Barbosa's and Rodriguez's right to take part in the political process, regardless of whether they were "spoiler candidates."
On July 15 Gonzalez filed more arguments against Madigan's position.
"[The] defendants' scheme of sham candidacies was far more than a 'political dirty trick' because a public election ballot, the very crux of democracy, was debased by their acts. [The] scheme was just such a calculated betrayal of both democracy and the voters of the 22nd District," Gonzalez said.
"The scheme was laced through with public officials, political connections and rewards available only through Michael Madigan's immense 'clout' based on unmatched public power in Illinois."
Gonzalez said he is supported by a number of opinions, related to elections, by the U.S. Supreme Court and federal appellate panels.
He added "[the] defendants' arguments do not pass muster. Defendants consistently rely only on quotes from opinions regardless of how factually dissimilar those cases might be."
Gonzalez alleged Madigan acted as a state agent in erecting the sham candidates, because Madigan's "public and private worlds have merged," stressing: "There is no demarcation between political and governmental function in the Madigan office at 6500 South Central in Chicago."
Gonzalez argued Madigan "rules all," with "unmatched public power" built on "money and jobs." According to Gonzales, the mock candidates were rewarded for appearing on the ballot.
The unemployed Barboza was hired by a Cicero construction company "strongly associated" with Cicero Town President Larry Dominick, Gonzales said. Barboza's wife landed a township job, his daughter obtained paid work for two summers with the Illinois Secretary of State's office and his sister was appointed by Dominick to the Cicero Zoning Appeal Board, according to Gonzales.
Rodriguez was hired by Elmhurst Chicago Stone, a business that has contributed campaign money to Chicago Alderman Edward Burke, Gonzalez said.
Tabares was tapped in 2017 by Madigan to run for the Democratic state central committee in the Third Congressional District, and Madigan backed her the following year for alderman in Chicago's 23rd Ward, a post she now holds, according to Gonzales.
Gonzalez alleges the aftermath of the primary election left him "incapacitated, personally and emotionally devastated, hopeless, and helpless," because "he didn't get a fair shot, which echoed his decades long struggle to get a fair shot in life despite his many achievements."
The turmoil drove him to see a psychiatrist, Gonzalez said.
Gonzales is represented by Anthony J. Peraica & Associates of Chicago.
The defendants are represented by Hinshaw & Culbertson, Richard J. Prendergast Ltd., James P. Nally PC, Law Offices of Scott B. Erdman, Akerman LLP, and Kasper & Nottage, all of Chicago. In addition there is legal representation from Del Galdo Law Group of Berwyn, Heather Wier Vaught PC of LaGrange and Law Offices of Michael Kreloff of Northbrook.