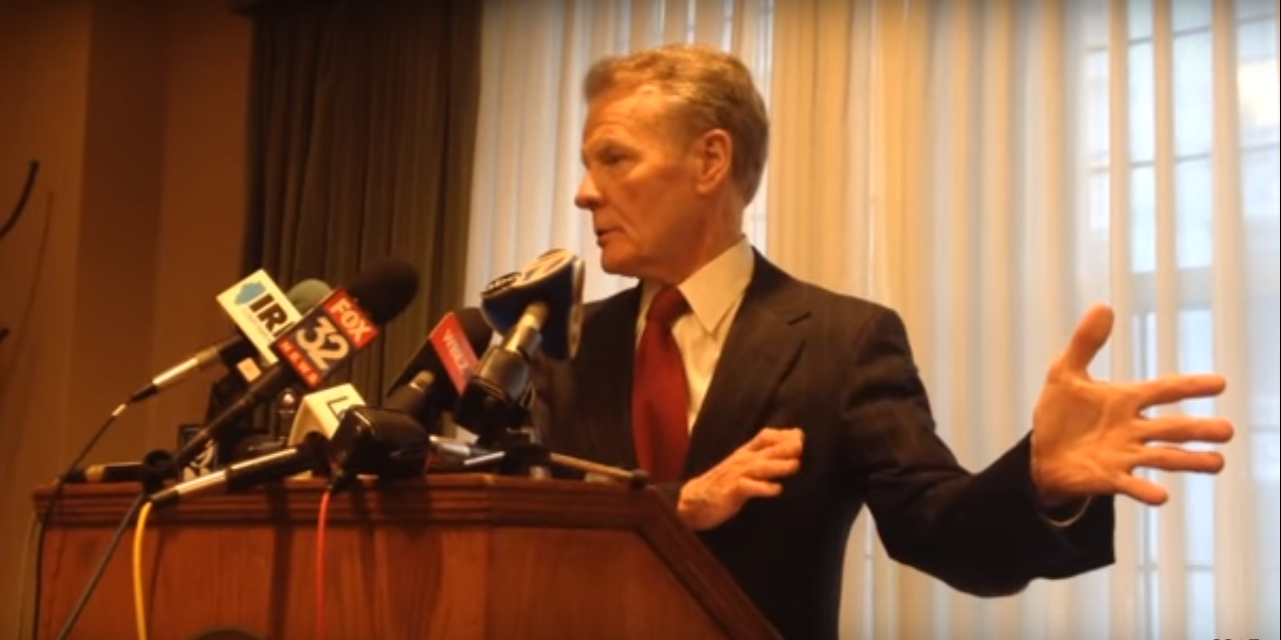 Illinois House Speaker Michael J. Madigan | Youtube screenshot
A man who claimed his campaign to unseat Illinois' most powerful legislator was shortcircuited by sham candidates planted on the ballot to dilute the Hispanic vote can't continue to press his lawsuit against Illinois House Speaker Michael Madigan over those dirty tricks, because voters had ample knowledge of the shady tactics, yet still chose to elect Madigan anyway, a federal judge has ruled.
On Aug. 23, U.S. District Judge Matthew F. Kennelly sided with Madigan in the longrunning legal action launched against the Speaker, his allies and powerful political organization by plaintiff Jason Gonzales.
"… The Court is cognizant that there is evidence from which a reasonable jury could find that the defendants engaged in a deliberate effort to interfere with voters' decision making," Kennelly said in his opinion. "Such fraudulent interference in the form of sham candidates might, in an appropriate case, undermine the ability of the electorate to hold the offending candidate to account.

Jason Gonzales
"But Gonzales has not pointed to evidence - or even alleged - that the defendants' fraud prevented the voters from punishing Madigan at the ballot box."
The decision appears to draw to a close the bruising court fight between Gonzales and Madigan, the longest serving state House Speaker in American history, who has dominated Illinois' state government for more than three decades.
Gonzales had filed suit in 2016 against Madigan and a number of other affiliated defendants, after losing to Madigan in the Democratic primary for Madigan's seat in the Illinois House of Representatives a few months earlier.
Also named as defendants were Madigan's campaign organizations, Friends of Michael J. Madigan and the 13th Ward Democratic Organization; Madigan aide Shaw Decremer; and Joe Barbosa and Grasiela Rodriguez, two individuals whose names also appeared on the ballot along with Gonzales and Madigan.
In the lawsuit, Gonzales claimed the Madigan organization, with the blessing of Madigan, placed Barbosa and Rodriguez on the ballot to confuse Hispanic voters and prevent Gonzales from using his Hispanic name and heritage to gain traction in the heavily Hispanic legislative district.
Gonzales also claimed Madigan's allies had improperly obtained and publicized his criminal history, after he had been pardoned by former Gov. Pat Quinn of misdemeanor and felony charges for unlawful use of credit cards when he was a teenager.
For their part, Madigan's people had argued Gonzales was himself a plant, acting at the behest of former Illinois Gov. Bruce Rauner, a Republican whose term in office was consumed with a public feud with Speaker Madigan.
Kennelly had initially dismissed the lawsuit entirely, finding Gonzales did not present enough evidence to support the claim Madigan had improperly used the power of his office against Gonzales.
However, Kennelly revived Gonzales' claims concerning the sham candidates in 2017, agreeing he had too quickly brushed aside Gonzales' claims.
The legal tussle has continued in the years and months since, with Gonzales and his attorney, Anthony Peraica, succeeding in winning an order requiring Madigan to sit for a deposition, the first time he has been ordered to do so. They also questioned a number of other Madigan allies over their involvement in the campaign.
However, in his Aug. 23 ruling, Kennelly said Gonzales' legal effort fell short of surviving Madigan's efforts to kick it out of court.
Kennelly agreed a jury could find Madigan had orchestrated a conspiracy of "dirty tricks" to undermine Gonzales' campaign and improperly interfere with voters' ability to choose a candidate by using the sham candidates to confuse voters.
He also rejected Madigan's efforts to argue the Speaker's decisive margin of victory alone should negate Gonzales' lawsuit.
But the judge said the recompense for such dirty tricks ultimately belong in the hands of voters at the ballot box, and not judges in a courtroom.
Kennelly noted Gonzales had used the sham candidates as "a central issue" against Madigan in public statements and in the press. The judge also noted the sham candidates had been called out in an editorial published in the Chicago Sun-Times.
"This publicity placed the alleged misconduct squarely within the political realm, enabling voters to rebuke Madigan by electing his challenger," Kennelly said. "Instead, Madigan prevailed by a substantial margin."
Citing the U.S. Seventh Circuit Court of Appeals in the 2018 decision Jones v. Markiewicz-Qualkinbush, Kennelly said he believed a judge "may not appropriately second-guess the voters' choice 'without displacing the people's right to govern their own affairs and making the judiciary just another political tool for one faction to wield against its rivals.'"
Kennelly granted Madigan's request for summary judgment.
Madigan and his associated defendants have been represented by attorneys with the firms of Hinshaw & Culbertson, Richard J. Prendergast Ltd., James P. Nally PC, Law Offices of Scott B. Erdman, Akerman LLP, and Kasper & Nottage, all of Chicago. In addition there is legal representation from Del Galdo Law Group of Berwyn, Heather Wier Vaught PC of LaGrange and Law Offices of Michael Kreloff, of Northbrook.