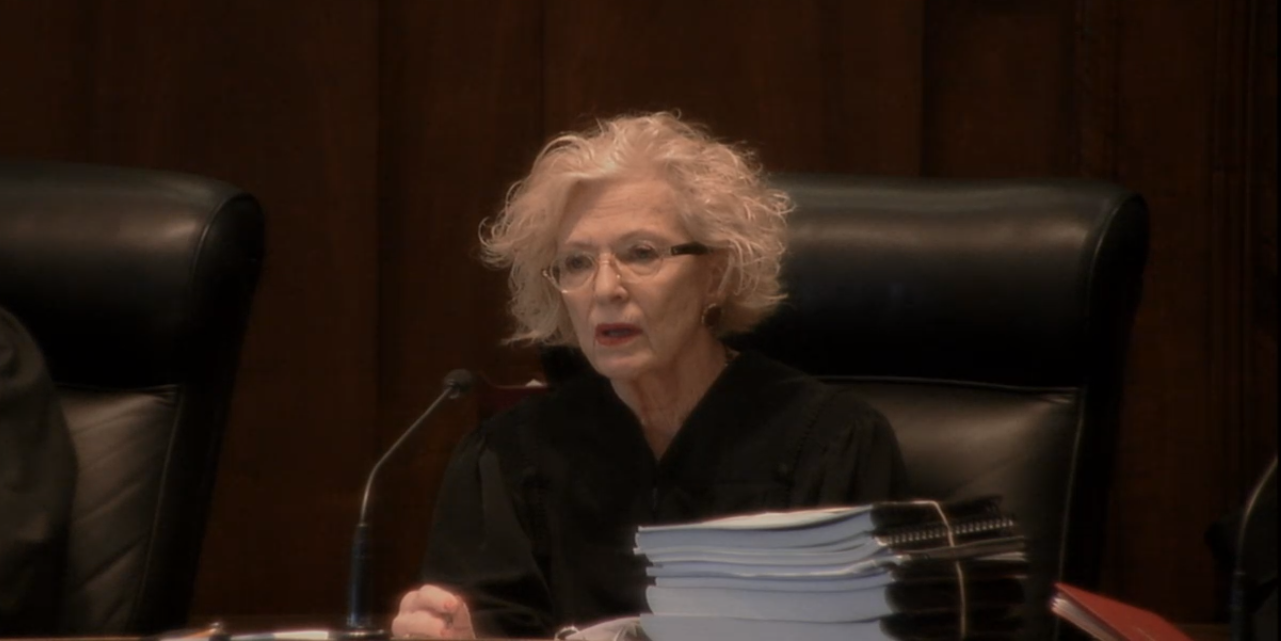 New Illinois Chief Justice Anne M. Burke | Vimeo livestream screenshot
Anne Burke, an Illinois Supreme Court justice who has served on the court since 2006, and the wife of indicted Chicago Ald. Ed Burke, has been selected by her fellow justices to serve as the new chief justice of the state's high court.
The Illinois Supreme Court announced Burke's selection in an order posted Sept. 11.
According to the two-sentence order, Burke will begin serving as chief justice on Oct. 26. Her term will expire on Oct. 25, 2022.
A spokesman for the Illinois Supreme Court said a more thorough statement from the court and her colleagues should be issued closer to the beginning of Burke's term.
Burke will succeed current Illinois Supreme Court Chief Justice Lloyd A. Karmeier, who has occupied the office since 2016. She was sworn in on Sept. 10.
Justices on the court typically take turns serving three-year terms as chief justice.
Burke, a Chicago Democrat, has served on the Illinois Supreme Court since she was appointed to the seat, as one of the justices representing Cook County, 13 years ago. Burke has since been elected twice to 10-year terms, in 2008 and again in 2018. Cook County, Illinois' most populous county, encompasses the entirety of Illinois' First Judicial District.
Burke has participated in a number of momentous decisions. Most recently, among others, she has:
- Sided with a 4-3 majority in barring the people of Illinois from being able to vote on a constitutional amendment on whether to change the way the state draws its legislative district lines, an amendment which would have taken some of the power away from Illinois House Speaker Michael J. Madigan and his Democratic allies in the Illinois General Assembly;
- Sided with a unanimous court in forbidding elected officials from attempting to reform financially troubled pension systems in Illinois;
- Authored a 4-3 opinion allowing a union lobbyist to double his pension in exchange for one day of work as a substitute teacher; and
- Authored a unanimous opinion declaring the city of Chicago has the constitutional authority to restrict food trucks from parking too close to brick-and-mortar restaurants.
Burke is married to Chicago Ald. Ed Burke.
Earlier this year, Ed Burke was indicted on federal charges accusing him of shaking down property owners in Chicago to benefit his law firm, Klafter & Burke. Ald. Burke has since been removed as a principal in that firm. He also was ousted after decades as chair of the city's powerful Finance Committee, a position he has been accused of using to boost his business, amass massive campaign war chests and build a patronage army of those politically loyal to him.
Amid the accusations against her husband, Anne Burke was also accused of wrongly hosting a fundraiser for Ed Burke ally Cook County Board President Toni Preckwinkle in the couple's home on Chicago's southwest side. Justice Burke was cleared of those charges by the state's Judicial Inquiry Board in April. The Judicial Inquiry Board gave no explanation for its decision, saying only it had reviewed the charges and "determined to close the matter."
Burke will be the third woman to serve as Illinois chief justice. Most recently, Justice Rita B. Garman served as chief justice from 2013-2016.
Before being appointed to the Illinois Supreme Court, Burke had been appointed to the Illinois First District Appellate Court in Chicago in 1995. She was elected in 1996.
Her judicial career began in 1987 when she was first appointed to the Illinois Court of Claims by former Gov. Jim Thompson. She was reappointed to that post by former Gov. Jim Edgar.
Before her judicial appointments, Burke was appointed as special counsel for Child Welfare Services. She also was a member of Gov. Edgar's Legislative Committee on Juvenile Justice.
As chief justice, Burke will serve as the chief administrative officer over all of Illinois' courts, supervising more than 900 judges across the state.
Among other duties, the chief justice controls and schedules the state high court's agenda for the conferences when it determines which cases to hear during its five formal terms each year. The chief justice also oversees all appointments to Supreme Court committees, submits the court's annual budget request to the General Assembly and serves as chair of the Executive Committee of the Illinois Judicial Conference, which is required by the state constitution.