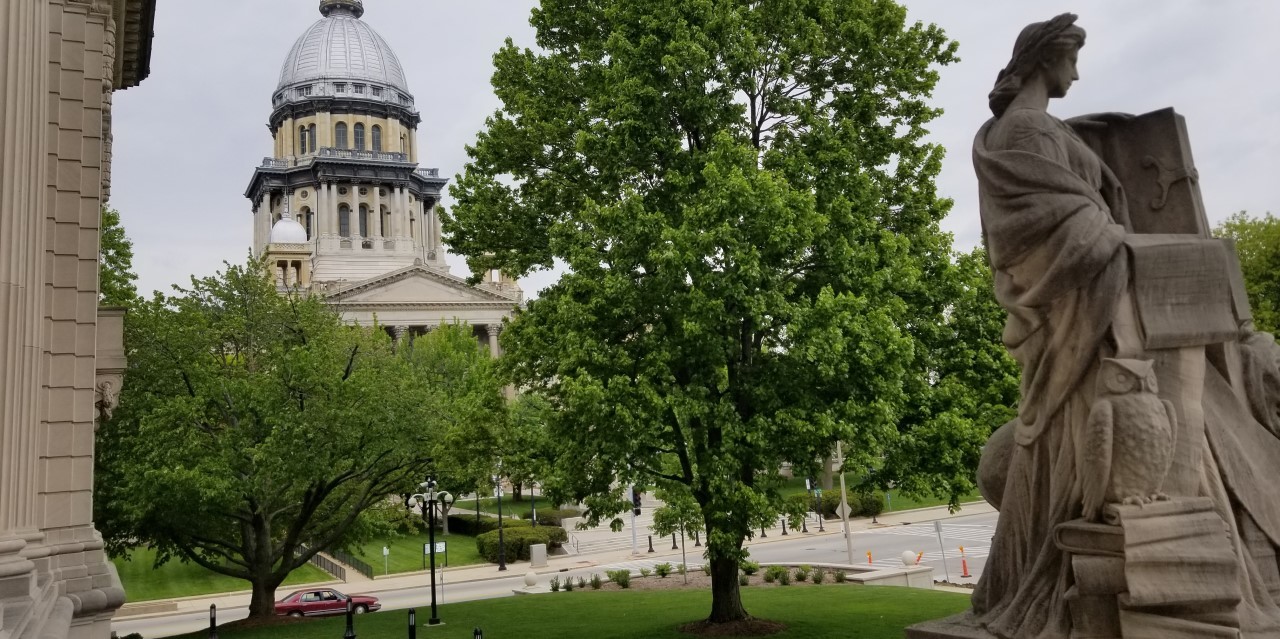 Illinois Capitol, seen from steps of Illinois Supreme Court, Springfield | Jonathan Bilyk
CHICAGO — Illinois Attorney General Kwame Raoul has rejected a settlement from opioid manufacturers and opted to file his own lawsuit on behalf of the state.
Raoul filed a complaint against several drug companies Sept. 10 in Cook County Circuit Court, then followed up the next day with two press releases — one detailing the suit and another explaining why Illinois won't be accepting a settlement in part of a nationwide legal dispute involving Purdue Pharma and its owners, the Sackler family, over alleged deceptive marketing prices intended to drive up prescriptions for addictive painkillers.
Raoul's new action comes amid reports Purdue Pharma has offered $12 billion to settle the opioid-related claims of at least 20 states. It has been reported Purdue would then head into Chapter 11 bankruptcy.

Illinois Attorney General Kwame Raoul
Recently, a federal judge in Cleveland, who is handling hundreds of lawsuits brought by tens of thousands of cities, counties, states and others against Purdue and other makers of the so-called opioid painkillers, also approved a "negotiation class" of more than 34,000 local governments in the hope of hammering out a settlement to end the sprawling federal opioid litigation. Under such a settlement, 75% of any settlement would go to counties, with as much as 10% going to the trial lawyers who filed the lawsuits. That possible "global settlement" has been opposed by at least 37 state attorneys general, who have argued it would undercut their actions.
In a statement released by his office, Raoul said he rejected Purdue's possible settlement because it would sufficiently punish the Sackler family.
"The Sackler family knowingly misled the public and continued pushing Purdue's addictive opioids without care or consideration of the death and destruction their product caused, and I stand with a majority of state attorneys general to say that the current proposal is not sufficient," Raoul said in the statement.
"My office is prepared to hold the Sackers accountable, regardless of whether or not Purdue declares bankruptcy, and I am pleased that a majority of states will continue to fight."
The new lawsuit names as defendants Johnson & Johnson, Janssen Pharmaceuticals, Ortho-McNeil-Janssen Pharmaceuticals, Janssen Pharmaceutica, Endo Health Solutions Endo Pharmaceuticals, Teva Pharmaceutical Industries Limited, Teva Pharmaceuticals USA, Cephalon, Allergan Finance, Actavis Pharma, Actavis LLC, Watson Laboratories, McKesson Corporation; Cardinal Health and AmerisourceBergen Drug Corporation.
Of those, Raoul identified Johnson & Johnson, Endo, Teva and Allergan as drug makers, saying they spent millions of dollars on efforts to shift public perception in favor of using painkillers, more frequently and at higher doses than usual, while also attempting to convince medical providers that opioids were safe and effective and minimizing the risk of addiction.
He further said distributors — McKesson, Cardinal and AmerisourceBergen — didn't live up to their responsibility to identify and intercept suspicious orders for opioids. In the release, Raoul alleged these companies "flooded Illinois with hundreds of millions of dosage units of opioids with little oversight, fueling the diversion of these drugs towards illegal and harmful uses."
The 14-count complaint calls for civil penalties of $50,000 per deception or unfair act in violation of the Consumer Fraud and Deceptive Business Practices Act, as well as $50,000 per act or practice found to be committed with intent to defraud. Raoul also seeks an extra $10,000 civil penalty found to be committed against a victim age 65 or older, disgorgement of profits, restitution to consumers, compensation for cost of prosecuting the case and a court order forcing the "defendants to abate the public nuisance that they created and compensate the state for costs associated with its abatement efforts."
According to the complaint, opioid overdoses killed almost 18,000 people in Illinois between 1999-2017, while emergency room visits for opioid overdosing rose by 66 percent between July 2016 and September 2017. Opioids — such as morphine, hydrocodone, oxycodone, oxymorphone and methadone — are a class of narcotic drugs that include heroin, some prescription pain relievers and fentanyl.
The Consumer Protection Division of the Attorney General's Office is prosecuting the new complaint.