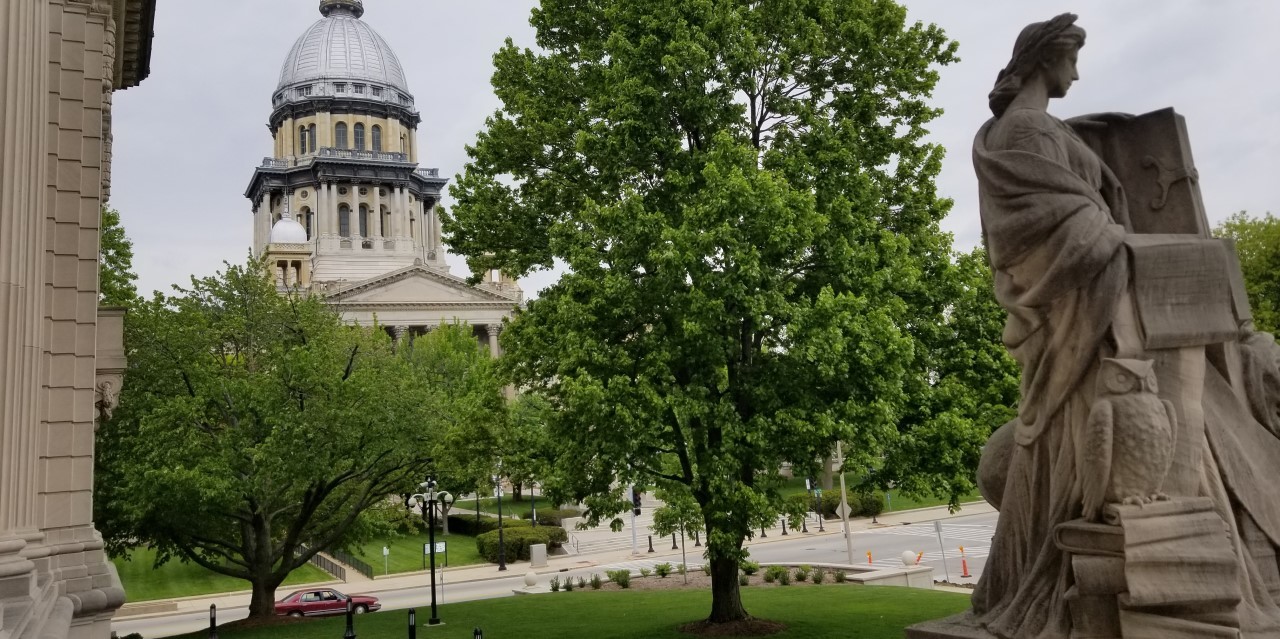 Illinois Capitol, seen from steps of Illinois Supreme Court, Springfield | Jonathan Bilyk
Brushing aside warnings of shortages of properly sterilized health care tools, Illinois lawmakers are moving forward with new legislation to all but force the state's medical device sterilization plants to close, over concerns emissions from the plants may be linked to an increased risk of cancer in those living nearby.
On Oct. 30, the Illinois House of Representatives voted to approve legislation that would all but ban the use of the chemical known as ethylene oxide for sterilizing the majority of medical devices found in hospital operating rooms and other health care settings.
Companies that make those medical devices and surgical tools, along with federal health care regulators, have responded to the legislation with alarm, saying the measure will lead to shortages of key medical devices and tools.
Particularly, the industry voiced concern over the likely closure of the Medline sterilization plant in Waukegan, should the state enact the law that cleared the Illinois House.
The measure still must win approval in the Illinois State Senate and be signed by Gov. JB Pritzker. The governor, however, has already committed to signing any further ethylene oxide restrictions passed by the state's General Assembly.
"The shutdown of Medline's sterilization plant in Waukegan will likely have a direct and devastating effect on the patients who are served by 135 Illinois hospitals, as well as millions of patients across the country who depend on the safe, clean and critical surgical devices Medline sterilizes, including the most vulnerable newborns in NICUs nationwide," said Scott Whitaker, president and CEO of AdvaMed, a trade organization which lobbies on behalf of medical device makers.
He was joined in concern by the acting commissioner of the U.S. Food and Drug Administration, who said: "Without adequate availability of ethylene oxide sterilization, we anticipate a national shortage of these devices and other critical devices including feeding tube devices used in neonatal intensive care units, drug-eluting cardiac stents, catheters, shunts and other implantable devices.
"It's important to note at this time there are no readily available processes or facilities that can serve as viable alternatives to those that use ethylene oxide to sterilize these devices. In short: this method is critical to our health care system and to the continued availability of safe, effective and high-quality medical devices."
The Illinois legislation comes on the heels of the decision by medical device sterilizer Sterigenics to withdraw from Illinois amid an uproar over allegations ethylene oxide emissions from its plant in suburban Willowbrook elevated the cancer risk in that town and surrounding communities.
In a legal, regulatory and public relations saga that began last summer, the state of Illinois, in response to protests from activists in those communities, moved to shut down Sterigenics' plant. First, the Illinois Attorney General's Office, joined by the DuPage County State's Attorney, sued Sterigenics, seeking an injunction forcing the plant to close.
That was followed in February by a so-called "seal order," imposed by the Illinois Environmental Protection Agency under the new Pritzker administration.
The state never argued Sterigenics violated the terms of its operating permit or of federal or state emissions standards. Rather, the state argued Sterigenics had created a "nuisance" by emitting ethylene oxide at all – even though the state had authorized the company to do so.
Sterigenics also sued the state, asserting the shutdown order was illegal and unconstitutional.
The Sterigenics fight prompted state lawmakers to then pass what has been hailed as the most stringent ethylene oxide emissions restrictions in the country, which took effect in June.
And in September, the state court actions ended with a so-called consent order, under which Sterigenics agreed to enhanced state emissions monitoring and to invest heavily in a new emissions control system for its Willowbrook plant, among other concessions, to bring its emissions to levels even lower than those otherwise permitted under the strong new state standards.
However, in response, lawmakers introduced the measure to all but ban the use of ethylene oxide for sterilization in Illinois.
This prompted Sterigenics to announce it would never reopen the Willowbrook facility and would leave Illinois for good.
The company also still faces about 40 personal injury lawsuits pending in Cook County Circuit Court, filed by those who claim the company's emissions caused cancer.
While Sterigenics has exited the state, Medline still operates a large sterilization plant in Waukegan in Lake County. Amid the outcry against Sterigenics, Medline announced it would install emissions controls it said would capture "99.9% of all ethylene oxide used, emitting cleaner air from our facility than the surrounding ambient air."
In response to the legislation, Medline also warned the potential new law would force it to close its doors, causing 700 people to lose their jobs and placing the supply chain for sterilized health care products at risk. Medline noted it produces 16,000 surgical packs every day, which are used by 80% of all hospitals in Illinois.
The industry has said shortages in such tools and devices would also raise the risk of infections in American hospitals.
This month, for instance, six doctors' groups, including the American College of Cardiology, the Society of Interventional Radiology, American Society for Gastrointestinal Endoscopy, Society for Thoracic Surgeons, Heart Rhythm Society and Society for Cardiovascular Angiography & Interventions, signed a letter to the FDA warning of shortages of key surgical tools. These they said, include pacemakers, cardiac catheters, stents and "other supplies and equipment used in the care of cardiovascular patients." The supply of these devices relies heavily on ethylene oxide "for proper sterilization to ensure patient safety,"
The doctors' groups warned shortages in those sterilized devices would lead to "absences and delays of treatments, as well as price increases within the health care system."
They urged the FDA and states to exercise "caution in considering limitation of the use of (ethylene oxide) for medical device sterilization" until a plan could be put in place to "ensure appropriate patient access to critical medical devices."
FDA officials warned the medical device industry could be reaching a "tipping point," should any more sterilization plants be forced to close because of ethylene oxide bans or restrictions.
"If there were to be any more closures then the likelihood is we will not only see spot or local shortages, it will have a ripple effect nationally," said Suzanne Schwartz, acting director of the FDA's Office of Strategic Partnerships & Technology Innovation.
AdvaMed's Whitaker added: "Make no mistake: Without (ethylene oxide) sterilization, there will be a true health care crisis in this country as physicians and surgeons will not have access to critical medical devices."