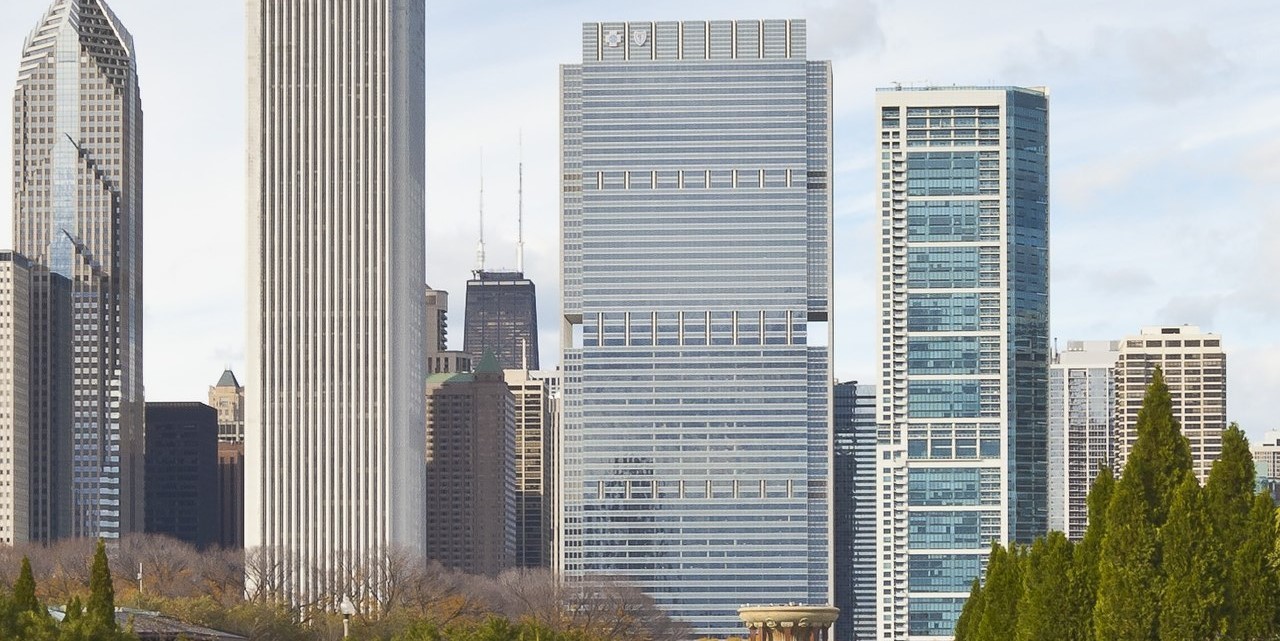 Blue Cross Blue Shield tower, Chicago
A woman has filed for a class action in Chicago federal court against one of the nation's largest health insurance administrators, alleging the licensee of Blue Cross Blue Shield rejects coverage for residential treatment of chronic mental health problems, based on "distorted" guidelines — produced by another company — that say such inpatient treatment is unnecessary.
Wisconsin resident Pamela Smith lodged the suit Oct. 31 in U.S. District Court for the Northern District of Illinois, for herself and her daughter.
One of the defendants is Chicago-based Health Care Service Corporation, described in the suit as the fourth largest health insurance administrator in the United States, with more than 16 million members. The company runs plans in Illinois, Texas, Oklahoma, Montana and New Mexico as a licensee of Blue Cross Blue Shield.
The second defendant is MCG, of Seattle, which licenses coverage guidelines to insurers and claims administrators, outlining which medical services are consistent with accepted medical practice. MCG is used by eight of the country's largest health plans, including HCSC, according to the suit.
Smith said she has insurance through her employer for her daughter, who has suffered from depression, substance abuse and borderline personality disorder. In April 2018, her daughter was hospitalized for five weeks in connection with these problems. HCSC denied coverage, except for six days of the hospitalization, on grounds residential treatment was not needed, in accordance with MCG's guidelines, Smith alleged.
Smith alleged MCG, to save money for itself and clients such as HCSC, has "distorted the accepted standards of medical practice for the treatment of behavioral health disorders," creating guidelines that are "inconsistent with accepted standards."
Smith alleged the guidelines minimize the importance of inpatient treatment for chronic mental health problems, as the guidelines insist residential care should be for "very short-term crisis intervention" and "stabilization" of "acute symptoms."
"This requirement is inconsistent with accepted standards of medical practice, which do not restrict residential treatment to 'crisis intervention' and which do not limit residential treatment to artificially predetermined durations, let alone to 'very short-term' stays," Smith asserted.
The guidelines also state it is adequate for a patient's condition to be "managed," rather than "effectively treated," Smith alleged.
"Guidelines are much more restrictive than the accepted standards of medical practice, which recognize that persistent and/or pervasive behavioral health disorders cannot necessarily be as effectively treated on a short-term and/or outpatient basis as they could be in residential care," Smith said in the complaint.
Smith wants HCSC prohibited from using the mental health guidelines and to reprocess claims denied on the basis of the guidelines. Smith also wants MCG barred from licensing the guidelines, and for a judge or jury to provide any other relief deemed proper.
Smith seeks to include in the class action any member of a health benefit plan governed by the U.S. Employee Retirement Income Security Act, whose request for coverage of residential treatment for a behavioral disorder was denied by HCSC based on the guidelines.
Smith is represented by the law firms of Miner, Barnhill & Galland, of Chicago; Zuckerman Spaeder LLP, of New York City; and Psych-Appeal, Inc., of West Hollywood, Calif.