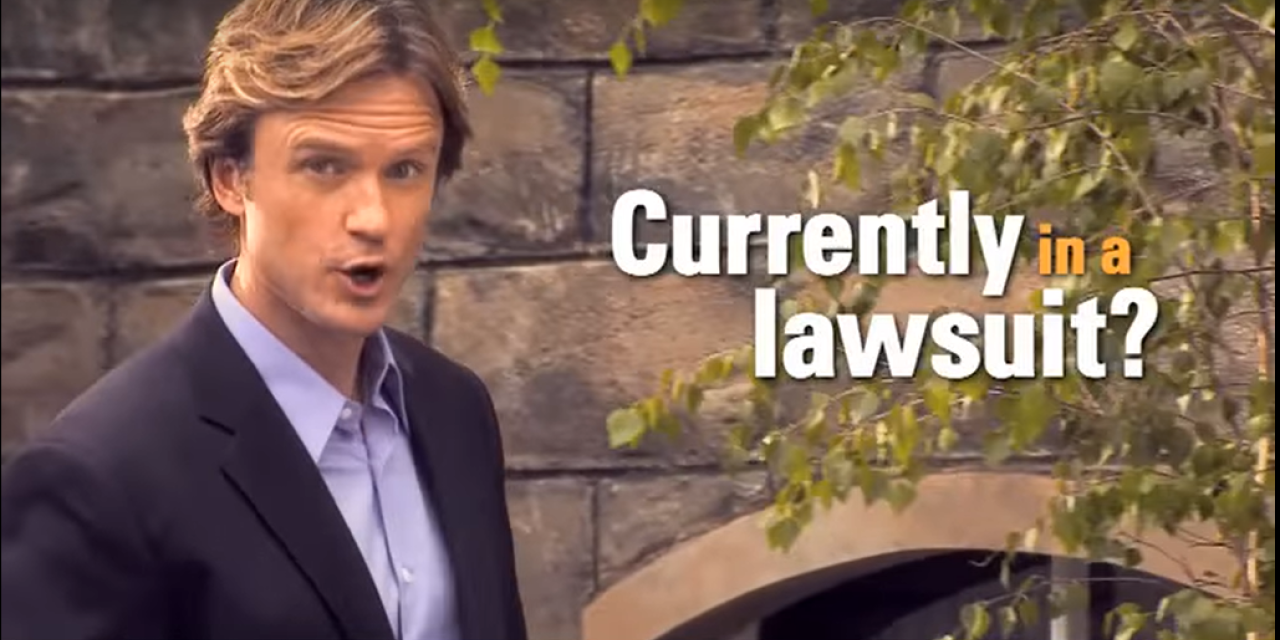 Still image from television ad run by Oasis Legal Finance | Youtube screenshot
Two third-party litigation financing companies have been targeted by class actions, accusing them of "loan sharking" and issuing illegal loans.
On Jan. 6, attorney Daniel J. Voelker, of Chicago, filed two lawsuits on behalf of two different named plaintiffs, taking aim at prominent lawsuit financiers Oasis Legal Finance and E-Z Case Loans.
The lawsuits center on the lenders' alleged practices surrounding loans for people pressing workers' compensation claims for injuries allegedly sustained while on the job.
Named plaintiffs include Jami Kaplan, against Oasis, and Dawn Wilczak, against E-Z Case Loans.
Oasis and E-Z each specialize in providing loans to people seeking to bring personal injury and workers' comp lawsuits. The loans act as an advance on court awards or settlements the plaintiffs expect to receive from their cases.
"Behind on your bills? Waiting for your case to settle? Let EZ Case Loans help," reads copy on E-Z's website.
"Life won't wait for your settlement. Neither should you," reads copy on Oasis Legal Finance's website.
According to the lawsuits, however, each of the companies allegedly "preys upon persons who have been injured on the job and are in the midst of a dispute with their employer" and then charges those taking out their settlement anticipation loans "outrageous and unlawful interest rates."
"Litigation funding is one of the newest areas of loan sharking by some unscrupulous lenders … seeking to make excessive profits by making unlawful loans to vulnerable persons in need of short-term funding to survive during the pendency of litigation," the plaintiffs assert in their nearly identical lawsuits.
According to the complaints, both Kaplan and Wilczak each took out a loan from their respective lenders for $1,000, with an annual interest rate beginning at 36%.
"However, as the loan was due upon the settlement of the underlying workers' compensation claim or action if the proceeds or payment was made (by the plaintiffs) sooner than one year, the interest rate charged (by Oasis or E-Z) could potentially be as high as 13,140%, or as low as 36%," the plaintiffs said in their complaints.
According to the lawsuits, the litigation lenders require borrowers to sign over an amount equal to the loan, plus interest, of any award they may receive from their workers' comp actions.
The complaints assert each of the plaintiffs repaid the loans from their workers' comp awards.
The lawsuits assert these terms violate Illinois' workers' comp law, which states: "No payment, claim, award or decision under this Act shall be assignable or subject to any lien, attachment or garnishment, or be held liable in any way for a lien, debt, penalty or damages…"
The lawsuits assert the lending practices and loan terms violate Illinois' consumer fraud law, as the lawsuits claim the loan terms were "deceptive" and "unfair," because the lenders "never advised" borrowers the loans may violate the law.
The complaints further assert the practice of litigation financing violate "age old common law doctrines of champerty, maintenance and barratry." Champerty is considered an illegal agreement in which someone with no standing in a legal dispute seeks to gain a cut of a judgment or settlement from a lawsuit by financing one of the parties involved. Those accuse of barratry are said to have incited someone else to bring "vexatious litigation" against another party.
The lawsuits ask the judge to expand the action to include potentially thousands of others who borrowed from Oasis and E-Z under similar terms to those allegedly presented to Kaplan and Wilczak.
The complaints ask the judge to find the lawsuit financing to be illegal under Illinois law, and to void all the contracts issued by Oasis and E-Z in Illinois. The complaints ask the judge to order the lenders to make "full restitution" of the loans issued to Illinois borrowers, plus pay attorney fees and unspecified punitive damages "in an amount sufficient to punish and deter (the lenders) from engaging in such unlawful, unfair and deceptive practices in the future."