A former McDonald's worker and the fast-food giant are battling over the worker's putative class action suit, which alleges McDonald's restrains trade by barring employees from transferring from one franchise to another in pursuit of better wages and conditions, with McDonald's contending its restaurants are separate "brands" incapable of violating antitrust law.
Stephanie Turner filed suit against McDonald's in August in U.S. District Court for the Northern District of Illinois. McDonald's is headquartered in Chicago. Turner alleged McDonald's violated the U.S. Sherman Antitrust Act by requiring franchisees to agree to a provision in franchise contracts to not recruit, much less hire, employees from other franchisees. This agreement, which was standard in contracts until 2017, was an anti-competitive business practice prohibited by law, Turner alleged.
Turner said she was working at a McDonald's in Ohio around 2009-10, when she considered switching to another McDonald's. However, she said her boss told her she first had to have a release from her supervisor, then wait six months before applying to the other restaurant. Turner did not believe she would get the release, and so did not apply. She eventually quit, but then later started at a McDonald's in Kentucky, where she said the provision again deterred her from going to work at another McDonald's. She quit the Kentucky restaurant in 2018.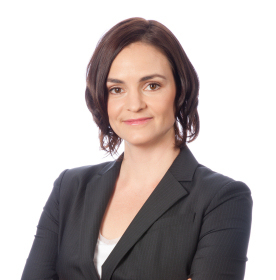 Anne B. Shaver | Lieff Cabraser Heimann & Bernstein
As a consequence of the provision, Turner claimed the labor market was distorted and she and other McDonald's workers suffered depressed wages, as well as "diminished opportunities" and "artificially limited" job mobility.
McDonald's has derided Turner's action for allegedly having many defects, saying, "Sue now, fill in the details later. That is what Stephanie Turner wants to do."
The company has a motion on the table to have the case dismissed, claiming McDonald's restaurants are a "single brand," which means there can be no antitrust transgression, because they are not competitors among themselves.
The company said Turner also never tried to apply for a job at a different McDonald's, so never suffered harm.
"She identifies no instance in which the provision was actually applied to her. She does not allege that she was prevented from applying for any open job position or accepting any job offer. She was never asked to obtain a release, nor did she ever seek one. Nor did the provision deprive her of any particular raise, promotion, or other job benefit. She merely
considered applying to another McDonald's restaurant but assumed that her supervisor would not aid in her doing so," McDonald's contended.
McDonald's further argued that as far as depressed wages,Turner's wages nearly tripled in her time with the company. In addition, Turner did not list any higher-paying McDonald's job opportunity for which she was turned down because of the provision, according to the company.
McDonald's also argued Turner filed her suit after the four-year statute of limitations expired, saying the statute began running in 2010, at the latest, when Turner said she first learned of the anti-poaching provision.
Turner has countered the company's arguments.
Regarding the company's assertion its restaurants are not separate competing players in the marketplace, Turner said the court has held the restaurants are one brand pertaining to products, such as hamburgers, but are each a different brand when it comes to the labor market.
On the wage suppression point, in Turner's view it does not matter she did not actually put in for a job with another franchise.
"McDonald's motion largely ignores Ms. Turner's actual claim for wage suppression, instead focusing on a straw-man issue: whether Ms. Turner personally applied for and was denied a job. But that question is irrelevant; whether she did or did not, the No-Hire Agreement suppressed market wages for her and other McDonald's employees' work," Turner's attorneys maintained.
As far as the statute of limitations, Turner said the clock began ticking the last time Turner "sold her labor to McDonald's at an artificially-depressed price," which was about two years before her suit.
Turner is represented by: Anne B. Shaver and other attorneys with the firms of Lieff Cabraser Heimann & Bernstein, of San Francisco; McCune Wright Arevalo LLP, of Edwardsville, Ill. and Ontario, Calif.; and Scott+Scott Attorneys at Law, of San Diego and New York City.
McDonald's is defended by Gibson Dunn & Crutcher, based in Los Angeles.