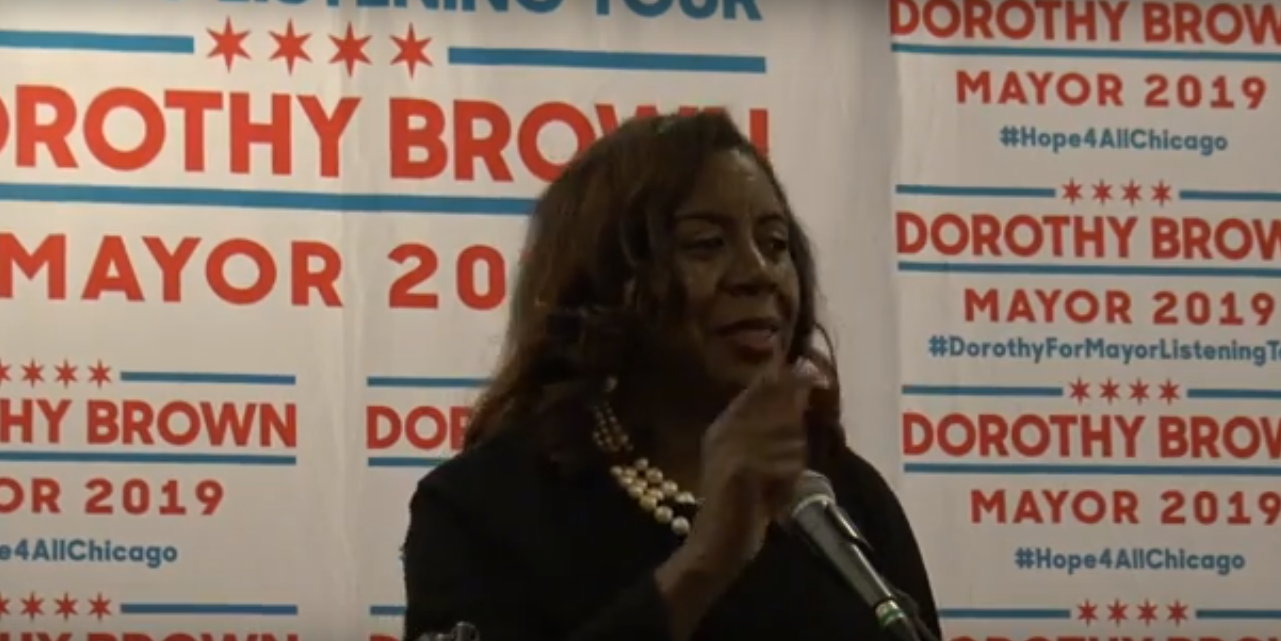 Cook County Circuit Clerk Dorothy Brown has not been indicted stemming from a federal investigation into hiring and promotions practices within her office. | Youtube screenshot
CHICAGO — A former aide to Cook County Circuit Clerk Dorothy Brown is suing to recover pension benefits she lost after being convicted in federal court of lying to a grand jury in an attempt to shield Brown from a criminal investigation.
Late last year, U.S. District Judge Sara Ellis sentenced Beena Patel, a former associate clerk in Brown's office, to two years in prison following her conviction on three counts of perjury for making false declarations to the grand jury investigating the alleged purchasing of jobs and promotions in the court clerk's office. The U.S. Attorney's Office for the Northern District of Illinois said Patel sold campaign fundraiser tickets to office colleagues on Brown's behalf and knew other employees did the same, but denied any such knowledge during grand jury testimony on Oct. 15, 2015.
Federal prosecutors also said Patel denied conversations with a colleague who loaned $15,000 to a company associated with Brown and her husband, and denied contacting Brown's chief of staff about a promotion for a Clerk's Office employee whose brother donated $10,000 to Brown's campaign. Government lawyers said that stonewalling hampered their ability to adequately prosecute Brown, who has not been indicted in connection with the investigation.
On Feb. 11, Patel filed a lawsuit in Cook County Circuit Court alleging the Retirement Board of the County Employees' and Officers' Annuity and Benefit Fund of Cook County wrongly revoked her pension because it determined the events leading to Patel's conviction were related to her county employment.
In her complaint, Patel alleged a lawyer for the retirement fund, Margaret Fahrenbach, told her lawyer on Sept. 30, before Patel was convicted and sentenced, that the pension board "had already determined that (her) pension benefits would be suspended, regardless of anything that would occur or was presented" during a Nov. 7 hearing on Patel's elibility to retain her pension benefits.
Patel is represented by attorney Donald Angelini Jr., of the firm of Angeline, Ori + Abate Law, of Chicago.
Patel said her federal sentencing hearing was already set for Nov. 19, so she compiled a written submission as a defense for the pension review. Angelini said the board considered Patel's case in a closed session and noted the fund didn't present evidence or call witnesses. Patel alleged that strategy shifted the burden of proof to her, to demonstrate to the board why she deserved to keep her pension, rather than placing the onus on the fund to demonstrate why it should be revoked.
In what Patel called "a detailed and highly prejudicial memorandum" issued Dec. 2, the retirement board called for Patel's pension to be revoked. That filing included a federal sentencing memorandum from Patel's criminal trial, a submission Patel said was "highly prejudicial and improper."
According to Patel, Fahrenbach "knew that this sentencing memorandum was a pleading from an interested party. They were not jury instructions which set for the 'law of the case.' It was not the indictment. It was a pleading whose purpose was to maximize Beena Patel's eventual sentence."
The retirement fund notified Patel on Jan. 10 that it terminated her benefits effective Dec. 1, 2019, saying there "was a sufficient nexus between the facts giving rise to your felony conviction in the matter identified about and the performance of your duties with Cook County."
In seeking administrative review, Patel said perjury "is a crime of dishonesty which applies equally across the lines of public and private employment." She noted she wasn't charged with public corruption, bribery or abusing the public trust and said the retirement fund should've considered the jury instructions from her federal trial, which had no reference to her status as a county employee. She further noted her employment status wasn't an issue at her trial and said the Retirement Board should respond to her motion by filing the administrative record of the proceeding that led to the final decision to revoke her pension.