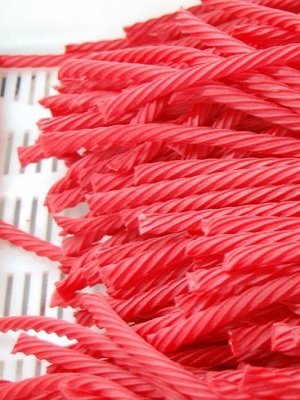 The candy man can take a sunrise and sprinkle it with dew, but he apparently draws the line at rice weevils.
Ferrara Candy Company, the century-old Oak Brook corporation behind iconic candy brands like Brach's, Red Hots and Lemonheads, filed a federal complaint Aug. 31 in Chicago against American Licorice Company, which supplied Ferrara with its Red Vines candy, several batches of which were allegedly infested with rice weevils.
Ferrara sells variety bags called Kiddie Mix, which contain house brands like Lemonheads and Trolli, as well as private brands purchased from other manufacturers. In 2014 and early 2015, Ferrara's complaint indicates the company bought 37,800 cases of Red Vines, a red licorice candy, from American Licorice, and later discovered the presence of rice weevils, an insect that feeds on grains like wheat, a Red Vines ingredient. The weevils purportedly in the Red Vines allegedly infiltrated Kiddie Mix bags as well, rendering them unsellable.
The packaging American Licorice used to deliver the Red Vinces was defective, Ferrara argues, "such that the rice weevils, attracted by the grain-based smell emanating from the defective openings entered and contaminated the candy packets." Discovery of the weevils led Ferrara to quarantine inventory, dispose unused Red Vines, halt distribution and recall product from stores.
Ferrara places its weevil-related damages at near $1.8 million.
In 2014, the complaint states American Licorice delivered 35,100 Red Vines cases to Ferrara's warehouse in Itasca and another 2,700 to its Bolingbrook distribution facility. In 2015, it shipped another 5,400 cases to the Bolingbrook center. The deliveries came on shrink-wrapped pallets of cardboard cases; each case contained about 275 individually sealed Red Vines packets.
The lawsuit, which goes into specific scientific detail about the weevils — Sitophilus oryzae — notes Ferrara had no known history of rice weevils in any of its products or facilities prior to March 16, 2015, despite routinely working with wheat-based items it produced or purchased. The timing is significant because it was only on March 11, 2015, that Ferrara shifted its Kiddie Mix packaging to the Bolingbrook facility. Five days later, a Ferrara packer "observed rice weevils on the metal plate underneath an infeed conveyor belt being employed for the packing of Kiddie Mix bags."
Further investigation traced the weevils to the defective seals on certain Red Vines packages, and an entomologist on staff with Rentolkil/Presto-X, Ferrara's contract exterminator, reported finding evidence the "weevils were using the licorice as a breeding medium and suggesting possibly three generations of the insect were living in the packet." There was no trace of weevils on Red Vines with uncorrupted packages, nor was there any trace of weevils found in traps Ferrara had installed after clearing its facilities of the tainted Red Vines.
American responded to a Ferrara email about the situation by suggesting the infestation came about during transport, but Ferrara notes the contract it has with American have the licorice maker assuming "all risk of loss during shipment." American rejected Ferrara's July 27 written demand for compensation in accordance with its reading of the contract terms.
The complaint enumerates seven counts of breach of express warranty and one count of breach of implied warranty.
Ferrara is requesting a trial and to be awarded damages, legal fees and other relief the court deems proper. Its representation includes Martin B. Carroll and Adam A. Hachikian of Fox, Swibel, Levin & Carroll, of Chicago.