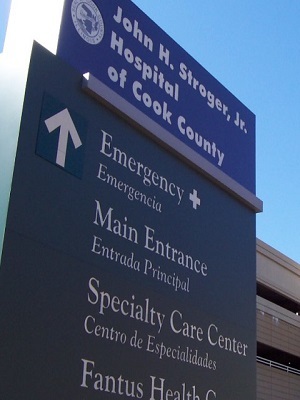 A Chicago federal judge has pulled the plug on a Cook County doctor's lawsuit, ruling the statute of limitations expired before he brought his action against John J. Stroger Hospital and county medical officials for allegedly firing and discriminating against him, because he is an Arab Muslim and blew the whistle on alleged fraud at the hospital.
Physician Ahmad Jajeh filed a two-count federal suit more than two years ago, on behalf of the federal government and the National Institutes of Health (NIH), against the hospital, the Board of Directors of Cook County Health and Hospital Systems, and oncologist Thomas Lad, chair of the Hematology and Oncology Division at Stroger Hospital.
Jajeh claimed defendants violated the federal False Claims Act by defrauding the government and then firing him in retaliation for reporting the alleged fraud. John J. Stroger Hospital is the primary public hospital in Cook County. The NIH is a medical research agency that is part of the U.S. Department of Health.
Jajeh has been licensed to practice medicine in Illinois since 1987 and worked as an attending physician in Stroger Hospital's Hematology and Oncology Department from December 1995 to April 2007. Lad was his supervisor for about the final three years of Jajeh's employment.
Jajeh claimed that during those years the hospital illegally disbursed more than $70,000 in NIH grant money. Jajeh said he complained to hospital officials, and contacted the FBI. Federal records do not indicate anyone was charged with any wrongdoing in connection with the alleged misuse of the funds.
Lad was told of Jajeh's complaints, and Jajeh alleged Lad retaliated by suspending Jajeh's nurse practitioner, denying Jajeh access to certain grant funds and restricting Jajeh's other job privileges and responsibilities. Jajeh said these acts were retaliatory and discriminatory, because he blew a whistle on potential wrongful conduct and because he is an Arab Muslim from Syria. In regard to the alleged discrimination, Jajeh lodged a complaint with the Equal Employment Opportunity Commission.
On June 28, 2013, Jajeh filed his federal suit. The Cook County State's Attorney's Office, which is representing the defendants in this case, responded with a motion to dismiss in November 2014. U.S. District Judge Sharon Johnson Coleman ruled on that motion on Oct. 30.
Defendants argued Jajeh's suit was barred by the statute of limitations, because the False Claims Act requires a suit be brought either within six years of the alleged violation or three years of when the alleged violation was or should have been discovered. Coleman found Jajeh missed both deadlines and dismissed the case.
Jajeh made two arguments against dismissal. First, he contended the clock did not start ticking until his last contact with the FBI in 2011. Coleman brushed this aside by pointing out federal law is clear a court action cannot be lodged "more than 6 years after the date on which the violation . . is committed." In view of this, Coleman found the 2011 contact with the FBI irrelevant.
Coleman said Jajeh's argument also fails if the three-year, instead of the six-year rule, is applied, because the year of Jajeh's first contact with the FBI – 2005 – would be the starting date, not the last contact in 2011.
Further, if the three-year rule was applied to Jajeh's discovery of the alleged fraud, which Jajeh claimed he documented around 2007 or 2008, Jajeh again fell short – in this instance by two to three years.
Jajeh's tried to maintain that, pursuant to the principle of equitable tolling, the six-year period did not kick in until he obtained documentation of the alleged misdeeds in 2007-08. Equitable tolling allows plaintiffs to make claims after expiration of the statute of limitations, if the plaintiffs tried their best to discover their injury, but did not do so until after expiration of the limitations.
Coleman smacked down this argument by citing a 2013 federal opinion which prohibits equitable tolling when it collides with a tolling provision in the statute at hand. In this case, the False Claims statute allows three years, which takes precedence and, again, makes Jajeh's complaint too late.
Jajeh's retaliation claim also fell to the statute of limitations. Jajeh argued he was fired in part to prevent him from discovering the full dimensions of the fraud. However, Coleman said Jajeh could have pursued a retaliation claim well before he completely grasped the alleged fraud, as his harassment supposedly began when he started looking into the alleged fraud.
Jajeh was represented by the Chicago firm of Coleman and Brown.