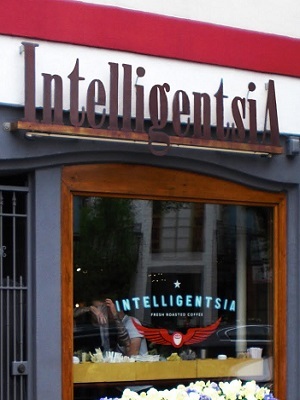 The former CEO and president of Intelligentsia Coffee says his former business partners owe him $15 million, which he said is the amount he is entitled to under his employment agreement with Intelligentsia following the company's sale to Peet's Coffee last month.
On Nov. 19, Robert Buono, a former lawyer who made a fortune in real estate development before taking over management at Intelligentsia, filed suit in Cook County Circuit Court against Intelligentsia and its cofounders, Doug Zell and Emily Mange, saying they have refused to pay him the money he is owed for his years of work at their company.
The complaint centers on the sale of Intelligentsia to Peet's, which was announced Oct. 30. According to the complaint, published reports indicated Peet's paid $100 million for the Chicago coffee house chain.
Buono said his relationship with Intelligentsia dates back to its founding in the mid-1990s, when Zell, a longtime friend, approached him for help getting the coffee house business venture he had begun with Mange, who was then Zell's wife, off the ground.
According to the complaint, Buono's services to Intelligentsia at the time included helping Zell and Mane incorporate the business and negotiating the first lease for the coffee house's first location on North Broadway in Chicago.
However, Buono became involved with Intelligentsia's management in 2010 when he was first approached by the company's then-CFO, Cara Miller to consider stepping into a leadership role to help what Buono portrayed as a floundering business regain its footing.
"Indeed, while the company's gross revenues were large, its profitability was small," Buono's complaint said. "Much of the cause of this disarray lay with the personal situations of its founders."
Those "situations," which included a pending divorce between Zell and Mange, often led the company's senior leadership to be "absent from the company for long periods of time" and left them "generally not communicating with each other," and "unable to deal with the mounting operational challenges."
In 2011, Buono said he agreed to work as the company's co-CEO and president, and undertake the task of reorganizing the company and instituting a number of reforms to improve business practices and restore profitability, a series of tasks for which the "breadth and scope… was obvious a tall order," the complaint said.
Since the company would not be able to pay him what he believed his time and labor were worth, Buono agreed to work for a share of the company's profits. The agreement spelled out Buono's interest would be fully vested in two stages: in August 2013, should he remain in his position until then, and at the time a majority stake in the company would be sold.
Essentially, that agreement entitled him to 15 percent of Intelligentsia's sale to Peet's, the complaint said.
Buono said he upheld his end of the deal, improving Intelligentsia's business and growing profits by 61 percent, resulting in a series of purported inquiries from others who wished to either invest in the business or acquire it. But some of his decisions were unpopular within the company, such as firing long-time employees who Buono alleged could not perform as required under the new system he implemented, and led to clashes with other members of the company's leadership. And ultimately, they fired Buono in July 2014.
However, following his termination, company leadership still acknowledged Buono's interest and stake in the company, listing him as one of the owners entitled to 15 percent profits interest.
Yet, following the sale to Peet's, Intelligentsia's leadership has not paid up, Buono said, which amounts to violations of state wage law and breach of contract.
For these alleged violations, Buono has asked for compensatory damages of at least $15 million, as well damages of at least $50,000 under the wage law, plus 2 percent of the alleged underpayment for each month "during which such underpayments remain unpaid."
He has requested a jury trial.
Buono is represented in the action by attorneys with the firm of Novack and Macey, of Chicago.