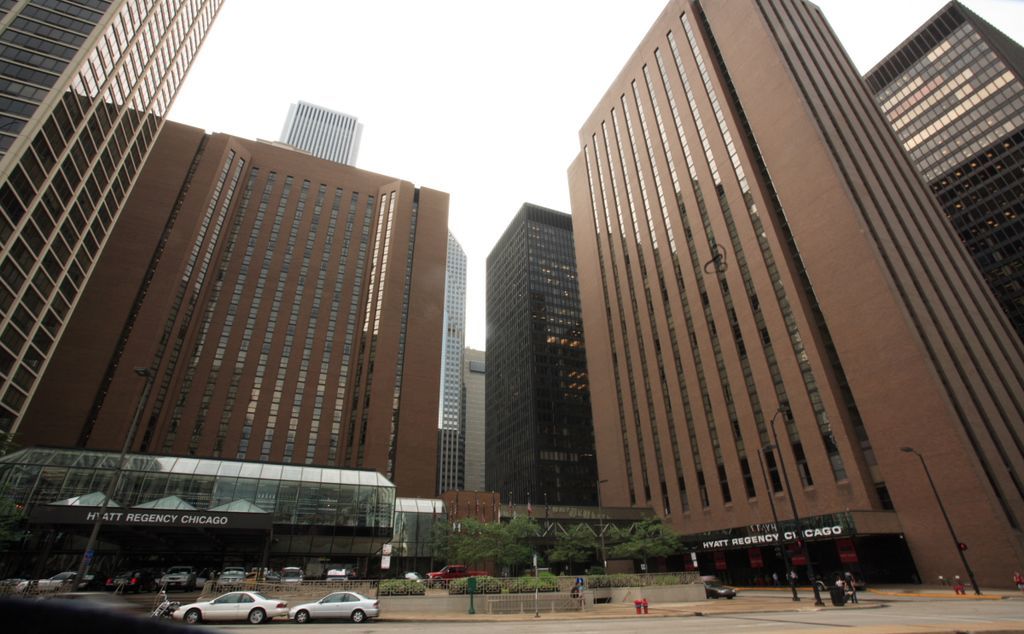 By Ray Dumas from Warren, USA (IMG_8857 - Hyatt Regency Chicago - Wacker Drive) [CC BY-SA 2.0 (https://creativecommons.org/licenses/by-sa/2.0)], via Wikimedia Commons
Comparing the practice to a surreptitious deal struck between the world's biggest beverage bottlers to not trample on the other's advertising turf, a new class action lawsuit accuses the country's biggest hoteliers of illegally conspiring to boost room prices by working together to make it harder for consumers to compare prices online.
On March 19, attorneys Steve W. Berman, Elizabeth A. Fegan and Eugene A. Burrus, of the firm of Hagens Berman Sobol and Shapiro LLP filed suit in Chicago federal court on behalf of named plaintiff Karen Tichy against Hilton, Hyatt, Marriott and others among the country's largest hotel brands, alleging the companies had violated federal antitrust laws by allegedly agreeing to scale back competition and restrain trade.
Wyndham Worldwide, Choice Hotels and Intercontinental Hotels Group were also named as defendants in the lawsuit.
The Hagens Berman attorneys are based offices in Seattle and Chicago.

Elizabeth Fegan Hagens Berman Sobol Shapiro
"This anticompetitive agreement is like Coke and Pepsi agreeing they would not use each other's names in advertising to compare product benefits - such as taste, price, or other features consumers find attractive," Tichy's lawsuit said. "By doing so, Coke and Pepsi inarguably would be restraining competition to the detriment of consumers."
The lawsuit centers on an alleged agreement among the hotel brands to manipulate online search results to ensure competitors and online travel services, like Expedia and Orbitz, could not use online advertising tactics to poach customers.
Since the late 1990s, online bookings have grown to become the dominant method consumers use to book hotel rooms. In large part, the lawsuit says, consumers have enjoyed the convenience of using online searches, either through traditional search engines like Google and Bing, or through online travel agencies (OTAs), to compare prices among various hotel brands operating in a particular city or other destination.
This, the lawsuit noted, has placed "downward pressure" on hotel room rates, while also increasing the market power of OTAs, which cost the hoteliers 12-20 percent commissions per room booked.
In response to these market trends, the lawsuit said, the large hotel brands, including the defendants, who together account for about 60 percent of all hotel room inventory in the U.S., allegedly began working together in 2014 to alter the online landscape.
Particularly, the lawsuit accuses the big hotel brands of agreeing to allow each brand to secure its own search engine advertising rights. In practice, this meant the brands agreed to allow each other to purchase only their own search engine keywords.
In the past, the lawsuit said, a consumer searching for a hotel in a particular destination could input a search using a phrase like "New York Hilton," yet could generate a response including advertisements from OTAs, like Expedia, and from competitors, like Hyatt or Marriott, among others, because the OTAs and competing hotel brands had purchased their competitors' keywords from the search engines. This, then, gave those OTAs and other brands the chance to essentially steal a sale from their competitors, and forced the hotel brands to reduce their rates to remain competitive.
However, beginning in 2015, the lawsuit alleges the hotel brands conspired to first pressure the OTAs to cease purchasing their brand keywords, and then agreed to no longer purchase each others' keywords.
"For example, a search for Honolulu Hyatt no longer carries advertisements from Defendants other than Hyatt, and no longer carries advertisements from Priceline, Expedia, or any of their owned websites," the lawsuit said. "Instead, the ads that appear, if any, are from Hyatt, and from perhaps one of the non Expedia or Priceline-owned OTAs who have not yet been intimidated by a cease-and-desist letter."
This, the lawsuit said, allegedly arose following years of pressure from within the industry to find ways to boost profits across the industry by raising rates.
The lawsuit noted federal regulators have argued such practices should be considered illegal under federal antitrust law, a stance backed by a December 2017 administrative law judge's decision in a similar case brought against vision care product provider 1-800-Contacts for similarly agreeing with competitors to prohibit "bidding on each other's branded keywords."
"The effect of these agreements was to impair competition, resulting in direct harm to consumers in interfering with the free flow of information from sellers to buyers, raising the costs to consumers of finding the most suitable offering, increasing transaction prices, and raising the price of hotel rooms sold online by reducing the downward pricing pressure exerted by OTAs and each other," the lawsuit said. "As a result of the illegal agreements, Plaintiff and the Class have been damaged by paying more for hotel rooms than they otherwise would in the absence of the agreements, and by incurring search and transaction costs higher than they would in the absence of the agreements."
The plaintiffs have asked the court to expand their lawsuit to include a class of additional plaintiffs, which could include anyone in the U.S. who paid for a room reserved online from an OTA or directly through a hotel brand's website. The lawsuit estimated the total class of consumers and businesses that could be included in the lawsuit could number in the "thousands."
The lawsuit asks the court to order the hotel brands to stop their current alleged practices and pay unspecified "money damages," plus attorney fees.