CHICAGO — As Illinois' attorney general spars in federal court with a company accused of emitting too much of an alleged cancer-causing chemical into the atmosphere in Chicago's western suburbs, others are calling on Illinois' new governor to do more, and immediately order the facility to close.
While the governor may be able to act under some legal theories, he must tread carefully to avoid running afoul of the company's rights to due process, said a law professor who specializes in environmental law, among other topics.
"The government has to have some legal basis for shutting down a business," said University of Illinois Law School Professor Arden Rowell.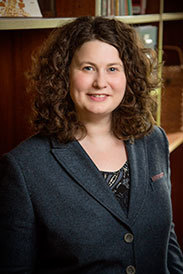 Arden Rowell | University of Illinois
In 2018 as he campaigned for the state's chief executive position, Democrat JB Pritzker asserted then-Gov. Bruce Rauner, a Republican, was unresponsive to claims by residents and others, based on an assessment of air quality data from federal agencies, linking emissions of ethylene oxide (EO) from a facility operated by surgical device sterilization company Sterigenics to an increase in cancer incidences among residents of Willowbrook and other neighboring communities.
Not even a month after his inauguration as governor, residents of the communities and others are calling on Pritzker to use executive powers to shut down the Sterigenics facility. Those calls only escalated in recent days, after the U.S. Environmental Protection Agency released new air quality monitoring data purporting to show elevated levels of ethylene oxide in the air near the Sterigenics facility.
In reply, Sterigenics on Feb. 5 pointed to EPA test results showing levels of the gas in nearby residential areas were "consistent with background levels of EO across the Chicago area."
A"s stated by the EPA, the levels of EO in the ambient air test results reflect 'extremely low levels in the atmosphere…part per billion and part per trillion numbers and it doesn't take very much of this material or any material to cause those kinds of levels in the air,'" Sterigenics said. "In addition, the EPA commented that 'monitoring information about ethylene oxide in the Willowbrook area remains limited. It remains premature to draw conclusions about long-term health risks from the data.'"
Members of Congress and local officials reacted far differently, however, calling for criminal probes of Sterigenics and again demanding more stringent action from federal and state officials.
To date, the only enforcement action taken has come from the Illinois Attorney General's office and the DuPage County State's Attorney's Office, which partnered to sue Sterigenics, asserting the facility's emissions posed a health hazard and should be shut down under state nuisance laws.
Sterigenics responded by taking the case to federal court in Chicago, asserting the prosecutors are essentially asking the courts to rewrite federal air quality rules, which Sterigenics said its emissions have always complied with.
After the latest round of EPA monitoring data was released, the attorney general and state's attorney asked the federal judge hearing the case to speed up the process of deciding which court the matter belongs in. On Feb. 13, U.S. District Judge John Z. Lee responded to the state's request: "The Court acknowledges the concerns expressed by the parties and will issue a ruling on the motion for remand as soon as practicable."
Despite meetings between Gov. Pritzker and Attorney General Kwame Raoul on the case, the governor has yet to take any action or indicate he would.
"Much of the governor's power is political, but the governor also has certain kinds of legal authority that are unavailable to other legal actors," Rowell said.
She noted the governor could declare a "disaster" if he claimed the facility was "causing a threat of 'widespread or severe damage, injury or loss of life."
"That would trigger a bunch of temporary emergency powers and open up a whole suite of tools for mitigating the threat caused by the emissions," Rowell said.
But, she noted the governor must be able to demonstrate Sterigenics is currently posing such a threat, and can't just shut it down for alleged past transgressions.
"If they've stopped unrestricted emission of ethylene oxide through their backvents - as the Attorney General's suit itself suggests they may have - then it's not clear that there is any current threat that the governor could respond to by declaring an emergency," Rowell said.
Rowell said without a demonstrable disaster declaration, the governor could run afoul of the due process clause within the U.S. Constitution "which guarantees that no one shall be 'deprived of life, liberty or property without due process of law.'"
"Other than the suit the attorney general has already filed, the state's authority is limited if Sterigenics isn't causing an ongoing threat," Rowell said.
She noted individual citizens can also sue Sterigenics, and a number have.
"For example, it would be possible for nearby residents to sue Sterigenics in private nuisance, claiming that Sterigenics' emissions substantially invaded their interest in the use and enjoyment of their land," Rowell said.
She said individuals also have rights under the federal Clean Air Act to sue either Sterigenics, if they believe it violated its permit, or the EPA, "if they think EPA failed to perform its duties under the Clean Air Act."