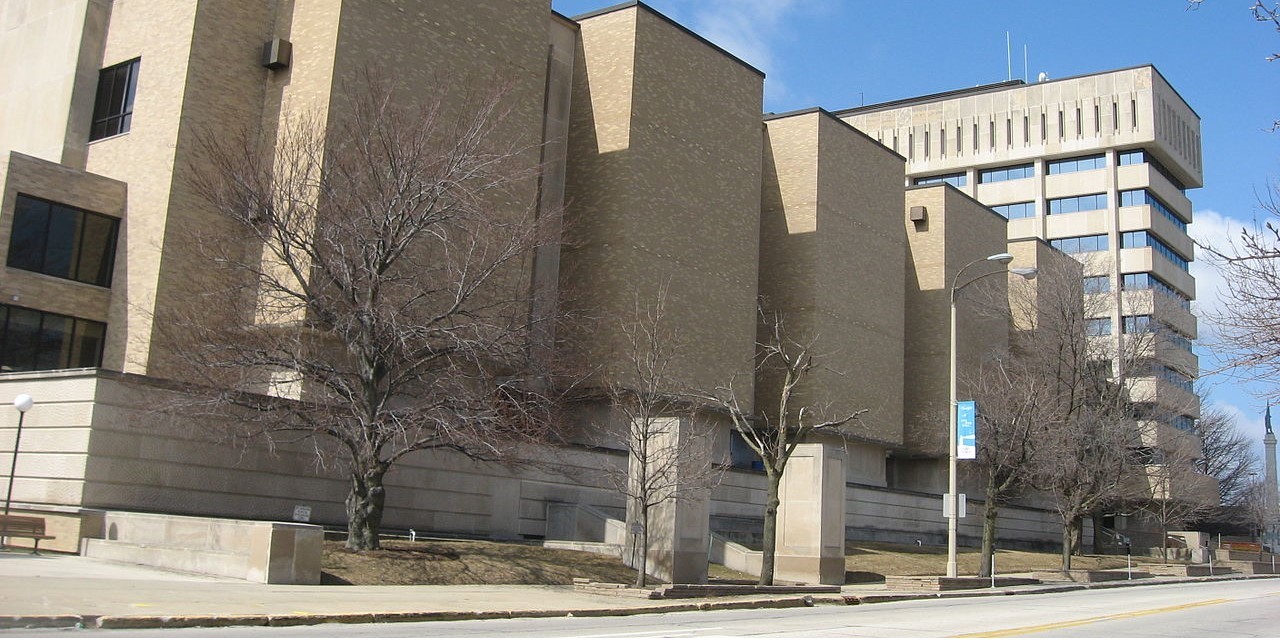 Lake County Courthouse, Waukegan | Nyttend [Public domain]
CHICAGO — Former Lake County Sheriff Mark Curran and another county corrections official do not have immunity from a class action lawsuit by jail inmates over a three-day water shutoff at the county lock up nearly two years ago, a federal appeals court said.
In their 20-page decision issued Aug. 12, a U.S. Seventh Circuit Court of Appeals three-judge panel affirmed a lower court decision to deny a request for dismissal by Curran and now demoted Chief of Corrections David Wathen based on qualified immunity.
Plaintiffs in the class action allege, among other matters, that they were prevented during the water shutdown from caring for themselves and that they were deprived of a basic human need in the form of water, which they say was a violation of their constitutional rights.

former Lake County Sheriff Mark Curran in a 2014 photo | facebook.com/curranforsenate
"The resulting alleged unsanitary conditions and physical harms were objectively unreasonable conditions of confinement that (if proven) violated the 14th Amendment's due-process guarantee," the appeals court panel said in its decision.
Appeals Judge Diane P. Wood wrote the decision. Judges Joel M. Flaum and Diane S. Sykes concurred.
The plaintiffs, Lake County Adult Correctional Facility inmates, sued after water to the jail was cut off without warning for three days in November 2017, according to the background portion of the appeals court's decision. It was Wathen who shut off the jail's water, according to the decision.
"The complaint does not reveal why Wathen shut off the water, although he avers in his briefing that he did so in order to replace a water booster pump," the decision said.
The plaintiffs allege that with no running water, the environment soon became very uncomfortable in the jail.
"With no running water, the plaintiffs had only limited water that the defendants provided for their personal and sanitation uses," the decision said. "As a result, they became ill and feces built up and festered in the jails' toilets, attracting insects."
Plaintiffs and other detainees maintain conditions "were disgusting and caused them tangible harm" and that they became "sick, sleep deprived and agitated" without adequate water to take medications, the decision said. Plaintiffs also claim they suffered "dehydration, migraine headaches, sickness, dizziness, constipation, and general malaise," the decision said.
The inmates also argued they were punished with lockdown in their cells when they asked for more water.
"The pretrial detainees responded with this putative class action, in which they alleged that the defendants violated their 14th Amendment due process rights," the decision said.
Curran, Wathen and "various yet-unnamed defendants" had moved for dismissal based on qualified immunity as public officials. A federal district court judge denied that motion and Curran and the other defendants appealed.
Curran demoted Wathen to deputy chief in September following the death of an Lake County jail inmate.
Curran, the Lake County sheriff for about 12 years, lost his re-election bid in November to former federal treasury agent John Idleburg by only 137 votes. Curran did not concede to Idleburg until earlier this month. A few days later, Curran told a Chicago-area newspaper that he will seek the 2020 Republican nomination to run against four-term Democrat U.S. Sen. Dick Durbin.