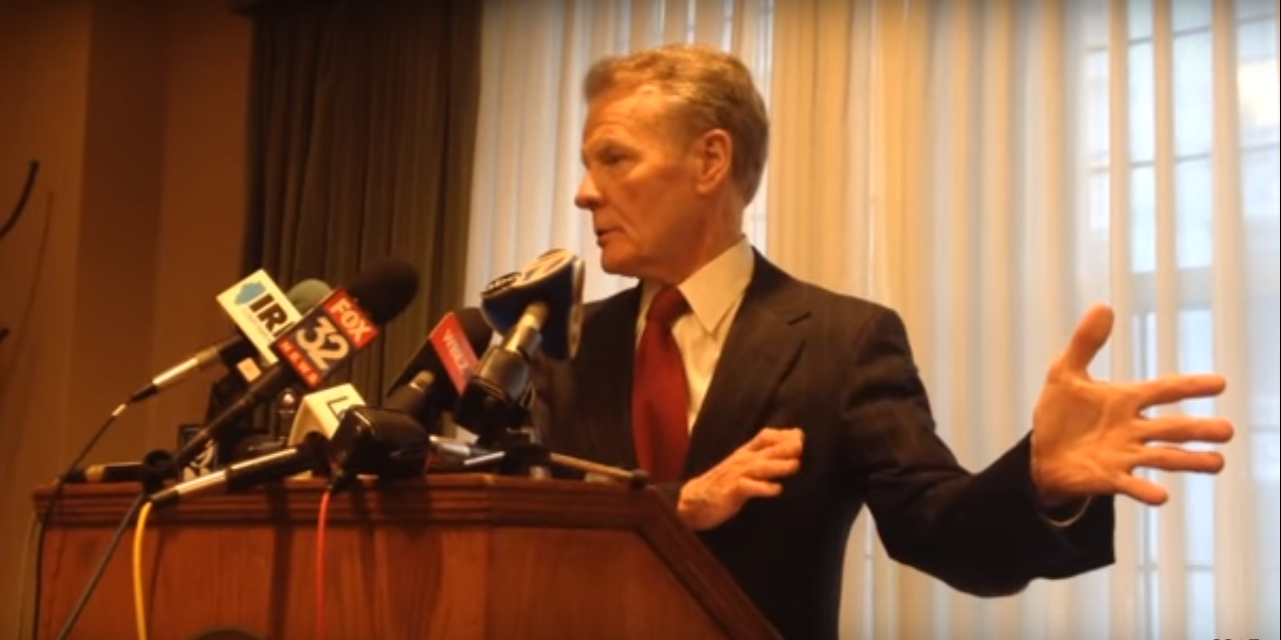 Illinois House Speaker Michael J. Madigan | Youtube screenshot
Alaina Hampton, a woman who has claimed Illinois Democrats, led by House Speaker Michael J. Madigan, blackballed her in retaliation for complaining a Madigan operative sexually harassed her, has settled her case with Madigan, the state Democratic Party and other Madigan-controlled political organizations.
On Nov. 29, Hampton quietly announced she had reached a deal to end the litigation that had survived for nearly a year and a half in Chicago federal court, against one of Illinois' most powerful political figures and his campaign apparatus, as well as other Madigan agents.
Under the deal, the Illinois Democratic Party and other Madigan-affiliated defendants would pay Hampton $75,000. Her attorneys, with the firm of Kulwin Masciopinto & Kulwin LLP, of Chicago, would receive an additional $200,000 in attorney fees, paid by the Madigan organizations.
Additionally, the state Democrats and Madigan groups agreed to not "disparage" Hampton or her attorneys "in any manner likely to be harmful to … their business or reputation."
Hampton similarly agreed to not "disparage" Madigan, his political organizations, or a number of his agents, identified in the settlement as Amanda Gaspar, Michael Kasper, Mary Morrissey, Chicago Ald. Marty Quinn, Madigan attorney Heather Wier Vaught, Craig Willert and Emily Wurth.
Further, Hampton agreed to not ever seek employment from any of Madigan's political committees and to not seek any employment with the Illinois Democratic Party for seven years. The settlement terms explicitly give those organizations the right to deny her employment or fire her, should she be hired in any role.
The Madigan campaign committees identified in the lawsuit include the Democratic Majority, Friends of Michael J. Madigan and the 13th Ward Democratic Organization.
"My case against the Democratic Party of Illinois, the Democratic Majority, the 13th Ward Democratic Organization, and Friends of Michael J. Madigan has been resolved," Hampton said in a prepared statement. "Going public with my story and pursuing a cause of action against some of the most powerful people in this state, and people I cared about, has not been easy.
"The past three years have taken a toll on me, so I am relieved to move forward with my life and put these events behind me."
Hampton filed suit in 2018 in Chicago federal court against Speaker Madigan, his political organizations and the Illinois Democratic Party. In her lawsuit, Hampton accused Madigan and his agents of doing too little to address harassment she said she suffered from Kevin Quinn, Ald. Marty Quinn's brother, and himself a prominent figure in Madigan's political regime.
Further, Hampton accused Illinois Democrats of blackballing her, and pressuring other Democratic allies, including public labor unions, to not hire her in retaliation for going public.
According to Hampton's complaint, she began working with Madigan's political organizations immediately after graduating college in mid-2012. Through March 2016, she held various roles for Madigan allies, including for current Illinois Lt. Gov. Juliana Stratton.
Hampton's work on Stratton's behalf during her campaign for state representative helped her land a post in Madigan's organization, under the so-called Chicago Heights Economic Development Corporation.
From July 2016-April 2017, Hampton worked on various campaigns, assigned by Kevin Quinn, who was her supervisor. She said it was commonly known that Kevin Quinn was "a high-ranking political operative" for Madigan, working out of the 13th Ward Office occupied by both Marty Quinn and Madigan.
Hampton claimed Kevin Quinn repeatedly and regularly subjected her to "severe and pervasive sexual harassment by pursuing (her) to have a romantic and sexual relationship with her," beginning in August 2016.
Hampton said she rebuffed Quinn's alleged advances, until February 2017, when she complained to Marty Quinn.
She was ultimately "constructively discharged and forced to stop working for" Madigan's organizations "because she could no longer suffer the crippling fear and anxiety she experienced having to work with Kevin Quinn."
Hampton later appealed directly to Madigan, in a personal letter to him. This then triggered a meeting with Madigan lawyer Heather Wier Vaught. Hampton asserted Vaught downplayed the harassment, and told Hampton "she was not sexually harassed or subjected to a sexually hostile work environment because she was not 'an employee,' and flippantly accused Ms. Hampton of wanting to get a 'front page newspaper story and money.'"
Hampton then filed suit, triggering the termination of Kevin Quinn the day after the lawsuit was filed.
However, in the months since her meeting with Vaught, Hampton alleged she was repeatedly rejected for political jobs to which she applied, including with the Chicago Teachers Union; with a prospective Democratic candidate for state representative; and with Chicago Ald. Deb Mell.
In most instances, Hampton said she was told the various organizations and political figures were either told not to hire her or work with her, or that they feared working with Hampton would bring retaliation from Madigan's committees or their operatives.
Hampton's settlement came days after the Chicago Tribune reported prominent lobbyist Michael McClain, known as a "confidant" of Speaker Madigan, had helped Kevin Quinn land contracts after his purported ouster from the Madigan political network.
Madigan's organizations and the Democratic Party have been represented by attorneys James M. Lydon, Aimee E. Delaney, Sunghee W. Sohn and Leigh C. Bonsall, of the firm of Hinshaw & Culbertson LLP, of Chicago.