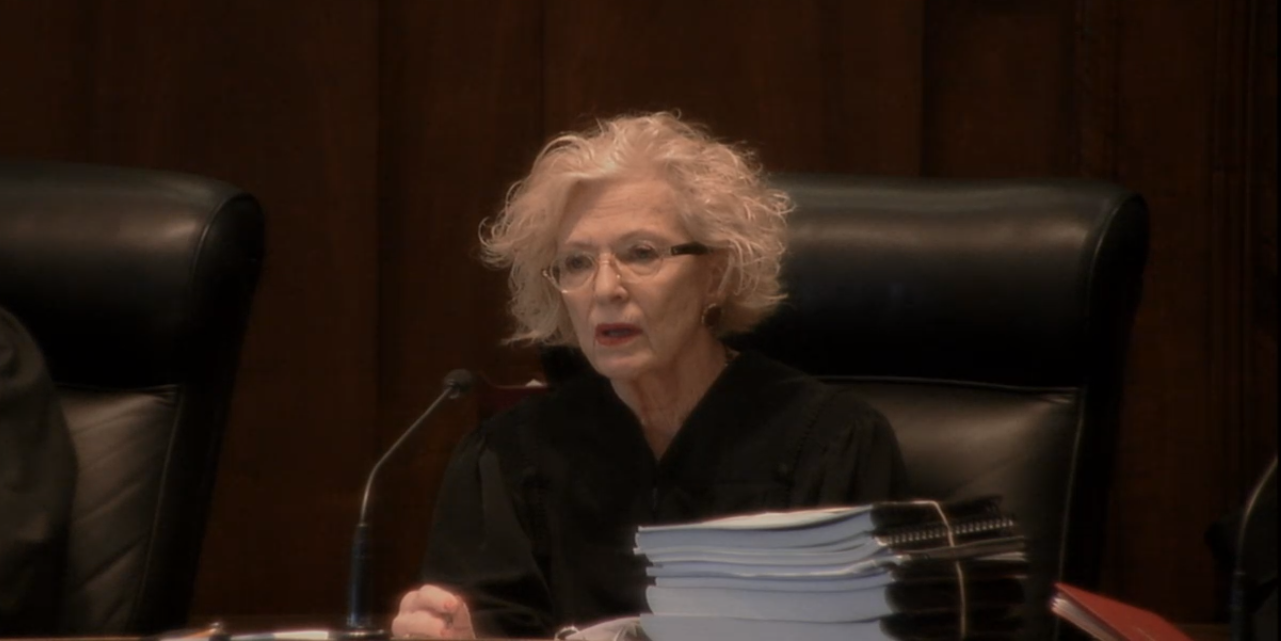 Illinois Supreme Court Chief Justice Anne M. Burke | Vimeo livestream screenshot
A divided Illinois Supreme Court has ruled laws granting governments immunity from being sued over decisions they make does not necessarily protect government when it makes no decisions at all, as in the case of a man injured while working at a Chicago area sewage treatment plant.
"Defendant has failed to offer a policy rationale that justifies immunity for the making of no decision. Nor can we think of one. In the absence of a judgment call and a weighing of risks and benefits, there is nothing to protect," Chief Justice Anne Burke said.
The Dec. 19 ruling was delivered by Burke, with concurrence from Justices Robert Thomas, Mary Jane Theis, Thomas Kilbride and P. Scott Neville Jr. Justices Lloyd Karmeier and Rita Garman dissented.
Karmeier voiced worry that under the majority's ruling, "decisions might well be made (by governmental entities) to sacrifice control over safety measures in order to minimize potential liability."
The majority decision favored La Salle County resident Becky Andrews, who sued the Metropolitan Water Reclamation District of Greater Chicago in 2012 in Cook County Circuit Court. Andrews' husband, Jeffrey Andrews, was an employee of a contractor, F.H. Paschen, S.N. Nielsen & Associates. In 2011, Jeffrey climbed a ladder on the outside of a district tank and, while pivoting over the lip of the tank onto an interior ladder, fell 30 feet, suffering severe injuries, the suit alleged.
A Cook County judge dismissed the suit on grounds the district was shielded by the Illinois Local Governmental and Governmental Employees Tort Immunity Act. Andrews next went to Illinois First District Appellate Court, where the dismissal was overturned. MWRD then appealed to the Illinois Supreme Court.
Justice Burke noted the purpose of the Tort Immunity Act is to safeguard public entities and employees from liability arising from governmental operations, with operations encompassing policy decisions made by entities.
Burke further noted: "The policy reasons for granting immunity are furthered only when the government entity or its employee has engaged in actual decision making."
In the Andrews case, Burke found the district rendered no decision that could be protected by the immunity law.
"As the appellate court below held, the record contains no documentation of 'any decision or refusal to decide whether to use the ladder configuration that resulted in Andrews being injured — there was no decision-making process at all,'" Burke observed.
Burke added: "Immunizing a nondecision would reward public officials and employees who ignore problems instead of addressing them."
In dissent, Karmeier said the majority finding could do the contrary, making governmental officials "lay responsibility for overseeing safety solely at the door of the contractors."
Karmeier pointed out district engineers allegedly knew of the allegedly dangerous ladders, but did nothing, which amounted to a decision.
"What if the facts are as plaintiff alleges in her complaint? What if the engineers in fact witnessed all the safety concerns and silently chose to do nothing, having it in their power to act? Is that not a conscious decision that would entitle the defendant to immunity?" Karmeier wondered.
Andrews was represented by the Chicago firm of Corboy & Demetrio.
The district was defended by the Chicago firms of SmithAmundsen and Brady, Connolly & Masuda.