A state appellate court reversed a Cook County judge's ruling in a divorce case, saying the husband's lawyer doesn't have to turn his fees over to the wife's attorneys in order to even out the financial playing field between the parties.
The July 29 decision was delivered in First District Illinois Appellate Court in Chicago by Justice Mary Anne Mason, with Justice Terrence Lavin concurring and Justice Aurelia Pucinski dissenting. The 2-1 decision lifted a contempt order against Chicago lawyer Stephen Gerage for not handing over $16,000 in fees, earned representing the husband in the case, to the wife's attorneys.
All three justices concurred regarding the other issue on appeal: An untouched retirement account cannot be forced open to pay attorneys.
The matter began in 2013, when Heather Altman filed for divorce from Jeffrey Block in Cook County Circuit Court. The proceedings, which are still in progress, have been "extremely contentious" and the parties "overly litigious," according to the circuit court judge in the case, David Haracz. In particular, an appellate justice described Block as taking a "scorched earth" approach.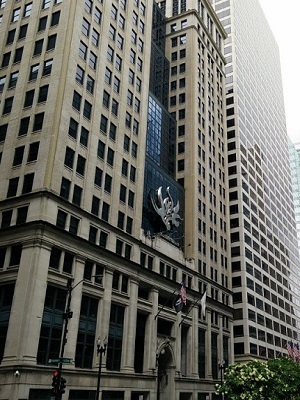 At one stage, Altman alleged Block was tapping his retirement account, which was a marital asset, to pay his attorney and other expenses unrelated to support of his children. Judge Haracz ordered Block to liquidate the $35,000 account and put the money in an escrow account held by Altman's attorneys, Bradford & Gordon, of Chicago. The $35,000 marked the remainder of the marital assets.
Altman then asked that Block put money toward her interim attorney fees, which amounted to $62,000 or in the alternative for Block's attorney, Stephen Gerage, to transfer to her attorneys the $16,000 in fees Block had paid Gerage. The court representative for their children also asked for $8,200.
Gerage was Block's second attorney in the divorce; Gerage withdrew from the case in August 2014, with Block proceeding from that point as his own attorney.
Judge Haracz found neither party had sufficient funds to fully pay their attorneys, and so invoked the "level playing field" provision of the Illinois Marriage and Dissolution of Marriage Act. The provision's purpose is to ensure financial parity between divorcing parties when one party has financial means and the other does not, by dividing "available funds" among the parties.
In line with this provision, Haracz considered the $35,000 retirement account to be "available funds" and ordered that $25,000 go to Altman's attorneys, with $8,284 to the childrens' representative. Haracz further commanded Gerage to cough up $16,000 in fees earned from Block, to Altman's attorneys in seven days. Gerage did not do so and was placed in contempt of court.
Gerage then appealed, saying Haracz's order violated his right to due process and impaired contract rights.
Gerage argued that instead of taking his fee money, Altman had a $100,000 retirement account from which she could pay her legal costs. Justice Mason countered that Altman's account is a non-marital asset and she hadn't already accessed it to pay attorneys, so it was off limits. Besides, state law exempts such accounts from creditors, including lawyers. On the other hand, Block opened his retirement fund to pay attorney fees, so his account became fair game.
However, Mason accepted Gerage's other contention he did not have to relinquish fees already in his pocket.
"We simply do not believe the legislature intended that the financial burden of leveling the playing field should be borne, in substantial part, by lawyers who must refund, under pain of contempt, fees they have earned," Mason observed.
Justice Pucinski agreed Altman's account could not be touched, but broke with the two other justices over Gerage's fees, saying the fees should be considered "available funds." Besides, Pucinski said Gerage's release of the fees is a "temporary shifting" of the money, and doesn't prevent Gerage from claiming his full fees at the end of the case. However, Justice Mason had noted that with the divorce litigants strapped for money, it's questionable whether Gerage will ever see the return of his fees, much less be paid in full.
Neither Altman nor Block took part in the appeal, but the Illinois Chapter of the 1,600-member American Academy of Matrimonial Lawyers filed a friend-of-the-court brief in support of Gerage.
"It is the matrimonial litigants who are the parties in the proceedings," the Academy reasoned. "The lawyers are not parties or even participants, other than in the capacity of representing their clients."