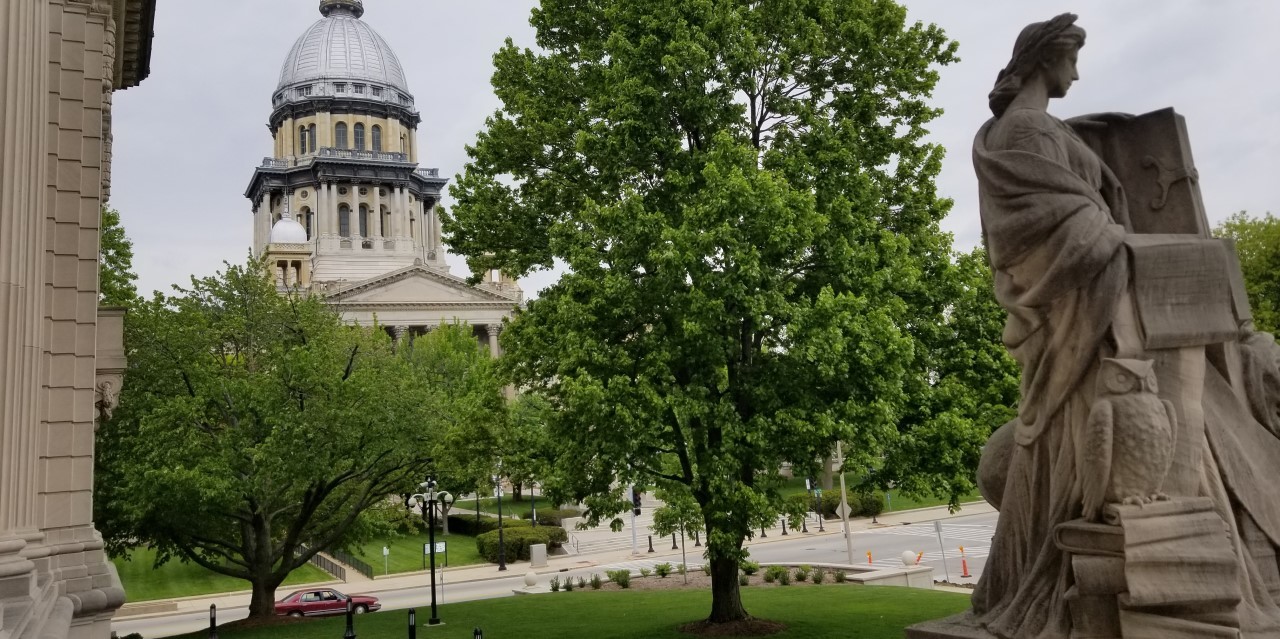 Illinois Capitol, seen from steps of Illinois Supreme Court, Springfield | Jonathan Bilyk
The Illinois Supreme Court has detoured a company's challenge to a state law requiring certain passenger transport companies to carry certain amounts of underinsured motorist coverage, as the high court justices said the company, which is being sued in a personal injury case citing that law, chose the wrong legal vehicle to make its arguments.
The decision was penned by Justice Anne Burke, with concurrence from Justices Rita Garman, Thomas Kilbride, Mary Jane Theis, Robert Thomas, P. Scott Neville and Chief Justice Lloyd Karmeier. The ruling stems from a Cook County lawsuit by Mary T. Carmichael against Professional Transportation, Inc., which later involved Illinois Secretary of State Jesse White and the constitutionality of a section of the Illinois Vehicle Code.
The ruling addressed procedure, finding a counterclaim that doesn't allege an independent cause of action against a plaintiff and doesn't specify what relief is sought, but only aims to defeat the plaintiff's claims,actually is an affirmative defense in disguise.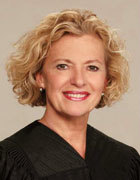 Illinois Supreme Court Justice Anne M. Burke | Illinoiscourts.gov
Carmichael was a Union Pacific Railroad employee, who was a passenger in a van operated by PTI when the van was in a two-vehicle collision Nov. 13, 2010. Carmichael suffered serious injuries, according to her suit. Union Pacific had contracted with PTI to transport its workers to job sites.
Carmichael reached a $20,000 settlement with the other driver's insurer, which was the limit of the driver's policy.
Carmichael then asked a judge to declare PTI responsible for her damages beyond the $20,000. Carmichael's basis was PTI allegedly failed to have underinsured motorist coverage of at least $250,000 per passenger, as required by a section of the Illinois Vehicle Code for contract carriers with vehicles transporting 15 passengers or less. Instead, PTI had underinsured limits of $20,000 per passenger and $40,000 per occurrence, according to Carmichael..
In turn, PTI filed affirmative defenses and a counterclaim that argued the section of the vehicle code was unconstitutional and did not permit a private party to apply the section in a civil case. Illinois Secretary of State Jesse White intervened with a motion defending the section and seeking dismissal of PTI's challenge.
In January 2015, the judge tossed the counterclaim, saying the claim lacked merit. PTI went to Illinois First District Appellate Court in Chicago; that court did not look at the merits, but upheld the dismissal on grounds the code section did not provide for private action.
This issue went before the Illinois Supreme Court, with Justice Burke determining the counterclaim was "not a true counterclaim.'
"It is clear that PTI's counterclaim does not state an independent cause of action against plaintiff. Instead, it requests a declaratory judgment on the identical legal grounds PTI already asserted in its affirmative defenses," Burke wrote..
Burke continued, saying: "A counterclaim is an action brought by a named party against another existing party to the action. Secretary White was not an existing party to the action at the time PTI filed its counterclaim."
Burke also found the judges and attorneys in the case incorrectly accepted the counterclaim as procedurally valid.
"Although the deficiencies in the counterclaim are readily apparent, the parties and the lower courts nevertheless treated the counterclaim as though it were a complete, independent cause of action seeking affirmative relief against plaintiff and Secretary White. This was error that led to several procedural irregularities," Burke wrote.
The Supreme Court struck the counterclaim, saying it duplicated PTI's affirmative defenses, and vacated the lower court orders that dismissed the counterclaim. In line with those actions, the high court sent the matter back to Cook County Circuit Court, with Burke saying: "PTI is free to proceed on its affirmative defenses as if the counterclaim had never been filed."
The Supreme Court did not address the constitutional or private right of action issues.
Illinois Assistant Attorney General Evan Seigel argued for the state.
Chicago lawyer John S. Bishof argued for Carmichael.
Hugh Griffin, of the Chicago firm of Hall, Prangle & Schoonveld, argued for PTI.