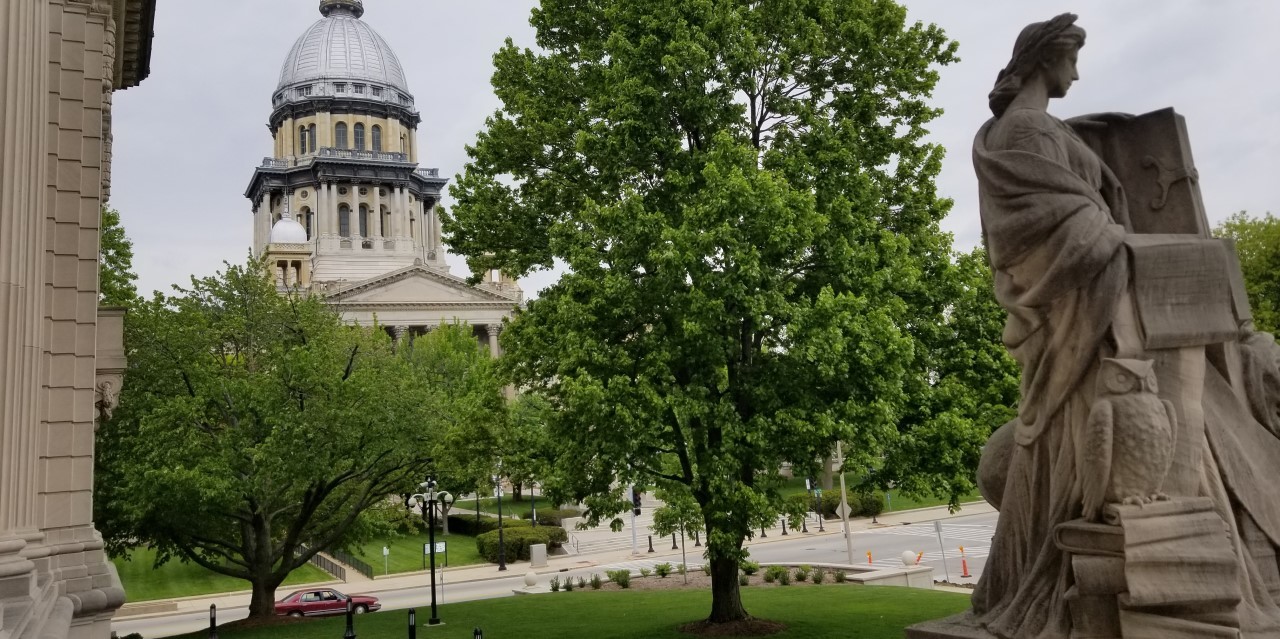 Illinois Capitol, seen from steps of Illinois Supreme Court, Springfield | Jonathan Bilyk
After arguing for months in court that federal clean air rules had little bearing on whether a medical device sterilization company should be shut down over its ethylene oxide emissions, Illinois' Attorney General has asked the federal government to tighten those same clean air rules to mirror Illinois' new ethylene oxide emission standards.
On Feb. 10, Illinois Attorney General Kwame Raoul, along with 10 other state attorneys general, submitted a letter to the U.S. Environmental Protection Agency, calling for significantly strengthening federal regulations of the use and allowable emissions levels for the compound known as ethylene oxide (EtO).
"We are concerned that the standards for EtO, a flammable and highly reactive gas, fail to adequately protect workers and communities from this toxic chemical…" Raoul wrote in the letter, which his office said he "led" in drafting and filing.

Illinois Attorney General Kwame Raoul | illinoisattorneygeneral.gov
The letter urged the U.S. EPA "to propose revised standards that adequately protect public health and the environment" from the alleged "risk posed by EtO emissions."
The letter was co-signed by the attorneys general of Iowa, Michigan, Maryland, Rhode Island, Massachusetts, New Jersey, New York, Minnesota, Delaware and Vermont, all Democrats.
The letter comes about a year since the Illinois EPA, under Gov. JB Pritzker, imposed an order shutting down a medical device sterilization facility in Willowbrook operated by Sterigenics, and about 6 months since the state dropped its litigation against Sterigenics over EtO emissions at the Willowbrook plant.
In that lawsuit, the state sought a court order permanently forbidding Sterigenics from emitting EtO, asserting the facility had created a public health hazard by emitting EtO.
Those actions had arisen in the wake of vociferous public demands from a group of activists and others, seeking the closure of the plant. The controversy centered on findings from the U.S. EPA and the federal Agency for Toxic Substances and Disease Registry, which blamed EtO emissions from the Sterigenics plant for increased cancer risks in Willowbrook and surrounding counties.
Sterigenics actively contested both the state lawsuit, filed first by former Illinois Attorney General Lisa Madigan, and the IEPA shutdown order, calling the exercise of state power unconstitutional and illegal.
In its filings, Sterigenics repeatedly asserted the state was attempting to use the courts to circumvent and rewrite federal emissions rules.
In response to that argument, the state repeatedly argued those clean air rules did not matter to its case, as the claims centered on claims of "public nuisance." While conceding Sterigenics never violated either federal or Illinois emissions limits, or the terms of its state-issued permit, the Attorney General's office argued Sterigenics should be shut down for emitting EtO at all.
Sterigenics and the state ultimately reached an agreement, under which Sterigenics would have been able to reopen under a much stricter set of emissions and inspection rules. Sterigenics, however, opted to pull out of Illinois entirely, as the company remained a target of public threats from state lawmakers and activists, whose stated goal was to drive the company out of business.
The same "public nuisance" legal theory that underpinned the state's lawsuit has further fueled a growing number of personal injury lawsuits filed against Sterigenics and other companies operating in Chicago's suburbs, including Medline and Vantage Specialty Chemicals. Medical device maker Medline uses EtO at its facility in Waukegan. Vantage uses EtO in its chemical manufacturing processes at its plant in Gurnee.
Sterigenics has continued to argue against the personal injury lawsuits by pointing to the permission it had obtained from the federal and state governments.
In a recent filing in Cook County Circuit Court, Vantage also took up Sterigenics' arguments, asserting it and other companies like it should not be able to be sued simply because they use EtO, while not exceeding state and federal emissions limits.
Further, medical device makers and sterilizers, like Sterigenics, have repeatedly asserted the courts would be wise to avoid clamping down too tightly on the use of EtO. They note, at this point, industry has no viable replacement for EtO to sterilize a range of essential medical devices and tools, including surgical kits and implements, pacemakers, knee and hip implants, hypodermic needles, and many others.
The medical device industry has backed that assertion, noting many of these medical devices could not meet the U.S. Food and Drug Administration's sterilization and quality standards without the use of EtO, raising the risk of deadly infections or device failure.
In the letter to the EPA, Raoul concedes this point, urging the U.S. EPA to work with the FDA to "support research into effective alternatives to EtO sterilization and end the over-reliance on the practice." The letter, however, does not expand on this point.
The letter also calls on the EPA to implement standards nationwide that mirror those enacted by Illinois state lawmakers last spring.
Under the so-called Haller Act, Illinois state officials boasted of creating the most stringent EtO emissions standards in the country, which the state said would eliminate more than 98% of EtO emissions from the plants.
"… We recommend that EPA adopt a similarly restrictive approach for the rest of the country to control emissions of this known carcinogen and protect communities located near EtO sterilization facilities," Raoul and the 10 other attorneys general wrote in their letter.
The letter does not address conflicting findings on the toxicity of EtO recently produced by the state of Texas' Commission on Environmental Quality.
At a conference in December, the TCEQ reported that in Jefferson County, a highly industrialized county along the Gulf of Mexico, east of Houston, EtO emissions measured 300 times higher than most of the U.S.
However, the TCEQ reported, "the incidents of leukemia, non-Hodgkin's lymphoma, and breast cancer are lower in Jefferson County than in the general U.S. population.
"… Based on USEPA's 2016 assessment, the exact opposite of this reality would be expected."
TCEQ argued that the "ill-founded concerns" about the carcinogenic risk posed by EtO do not stem from its carcinogenic potency, but rather the EPA's "scientifically flawed assessment."